What is Criminal Psychology?
Criminal or forensic psychology is a branch of the field of psychology which focuses on criminals. Criminal psychologists can engage in a number of activities related to criminal investigations, ranging from creating profiles of offenders or victims based on available information to conducting psychological testing of people on trial for various crimes. Training in criminal psychology can include a bachelor's, master's, or doctorate degree in psychology.
Criminal psychology should not be confused with criminal psychiatry; while both deal with mental health issues, psychiatry is heavily focused on the diagnosis and treatment of mental disorders, which can include a variety of therapies and treatment approaches, while psychologists study human behavior and the motivations behind it, which can include mental illness and ways in which it can be treated.
Researchers in criminal psychology are interested in what makes people commit criminal acts, ranging from the childhood environments of serial killers to the psychological pressures which lead people to rob banks to deal with financial problems. They are also interested in the ways in which criminals deal with the aftermath of a crime, including criminals who choose to run or act up in court.
The insights of someone trained in criminal psychology can be valuable in a criminal investigation. These psychological professionals can utilize a variety of clues to gain an insight into the nature of a crime and the person who committed it. For example, a murderer who mutilates a victim may leave markings which could be tell-tale clues to motivations or identity which could be used to develop a psychological profile which might help investigators identify suspects. Likewise, a criminal psychologist could look at the victims selected by an offender and draw conclusions about the offender and likely future targets from their profiles.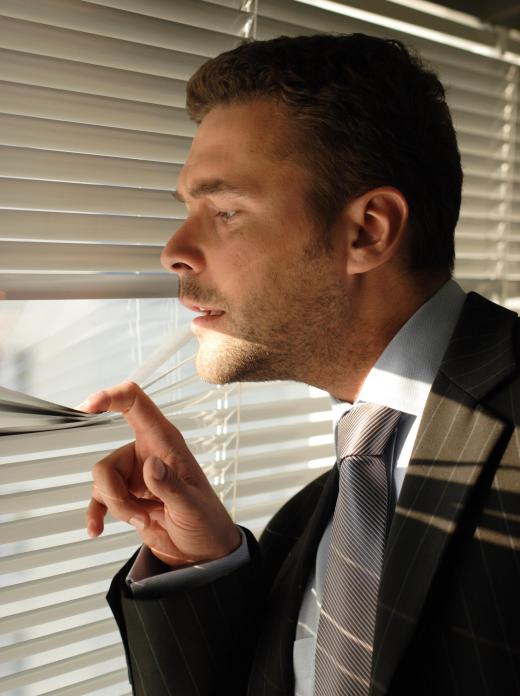 An expert in criminal psychology may be asked to observe or participate in the interrogation of a person of interest in a crime, or to interact with the victim to gather information. He or she can also gather psychological clues from conditions at a crime site or an offender's home, and suggest areas of pursuit which might be rewarding for investigators.
Some criminal psychologists focus on working with children who commit crimes or who are victims of crime. They usually have degrees in child psychology and have pursued additional training in criminology and forensic psychology, and they may help children as patients in a clinical practice, testify about child criminals in court, or offer assistance to criminal investigations involving children.
AS FEATURED ON:
AS FEATURED ON:
By: donserhio

An expert in criminal psychology may be asked to participate in an interrogation.

By: Stephen Coburn

One role of a criminal psychologist is to testify in court, when necessary.

By: endostock

A criminal psychologist might start as an investigator.

By: Astrid Gast

Criminal psychology may look at the impact crimes have on victims.

By: kilukilu

Criminal psychology can help investigators narrow down suspects based off of evidence collected at a crime scene.