Floristry is the art of arranging flowers and plants into visually pleasing displays. It's not just about aesthetics; florists also need knowledge of plant care, design principles, and event planning. Intrigued? How might floristry skills enhance your personal or professional life?
Floristry is the professional art of creating floral arrangements. It also encompasses the care and handling of flowers, sales and display of flowers, and flower delivery. The floral industry is the driving force behind floristry, although the term generally refers to the cultivation, care and selling of flowers. There are two primary types of florists in floristry – the wholesaler and the retailer. Wholesale florists grow and sell flowers in bulk to retailers, while retail florists provide flowers, floral arrangements and related floristry supplies to consumers.
Florists must learn a variety of skills in order to work as professionals in the trade. These skills include the designing of various flower arrangements, care and preservation of fresh flowers, and the sale and marketing of floral products. Floristry is sometimes known as floral design, and many florists believe there is an art to proper flower arrangement.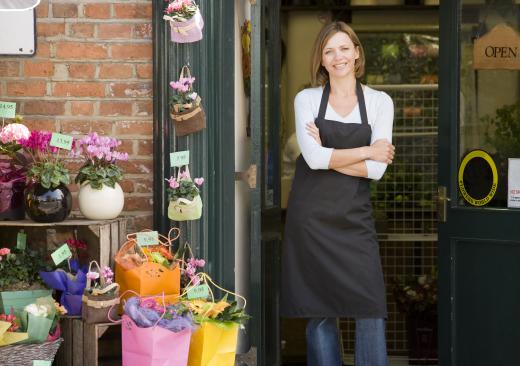 Aside from practical skills, knowledge in the lore and symbolism of flowers is helpful to florists. When working in an area inhabited by people of multiple cultures, this knowledge will be invaluable when designing arrangements for customers. Color meanings, holidays in which particular flowers are used, and the various styles of floristry are also required knowledge for aspiring florists.
The styles of floristry vary from location to location, but florists must be familiar with the primary styles, particularly for their geographical area. The three most common styles of floristry include High Style, English Garden and Ikebana. High Style is most popular in the United States, and is characterized by symmetry, negative space and linear designs. English Garden style is popular in England, and consists of the use of seasonal and garden flowers, and large displays meant to be viewed from all angles. Ikebana style originates in Japan, and includes triangular arrangements which emphasize simplicity and beauty.
The field of professional floristry is not difficult to breach. It is a growing business in the United States, which has led to an increased demand for academies which teach the trade. Many universities and colleges now provide floristry courses through their horticulture departments. Floral design workshops are also offered in many large cities.
Potential students interested in a floral design career may learn through higher education establishments, or even from an experienced floral retailer. Some florists may be willing to take an apprentice and impart the craft without the need for higher education. However, the knowledge gained in these situations may not be enough to secure employment elsewhere.
AS FEATURED ON:
AS FEATURED ON:
By: Monkey Business

Some flower shops offer floristry courses for people who want to learn how to design and create detailed flower arrangements.

By: Ivonne Wierink

The floral industry generally refers to the cultivation, care and selling of flowers.

By: chungking

Wholesale florists grow and sell flowers in bulk to retailers.

By: photografer1980

Many people who work as a florist earn a degree in horticulture.

By: Robert Hoetink

Florists may specialize in arrangements for events such as memorials.

By: pashyksv

Florists must be familiar with the primary floristry styles of their geographic area.