Naprapathy is a form of bodywork that is focused on the manual manipulation of the spine and connective tissue. Based on the fundamental principles of osteopathy and chiropractic techniques, naprapathy is a holistic and integrative approach to restoring whole health. In fact, naprapathy often incorporates multiple, complimentary therapies, such as massage, nutritional counseling, electrical muscle stimulation and low-level laser therapy.
Naprapathy also targets vertebral subluxations, or physical abnormalities present that suggest a misalignment or injury of the spinal vertebrae. This analysis is made by a physical inspection of the musculoskeletal system, as well as visual observation. The practitioner will also conduct a lengthy interview with the client to help determine stress level and nutritional status as well. An imbalance along one or more of these lines may signal trouble within the musculoskeletal structure.
The naprapathy practitioner is particularly skilled in identifying restricted or stressed components of the fascial system, or connective tissue. It is believed that where constriction of muscles, ligaments, and tendons exists, there is impaired blood flow and nerve functioning. Naprapathy attempts to correct these blockages through hands-on manipulation and stretching of connective tissue. However, since this discipline embodies a holistic approach, the naprapathy practitioner is also concerned with their client's emotional health. To that end, many practitioners are also trained in psychotherapy and even hypnotherapy.
In some countries, such as Sweden, naprapathy practitioners are designated Doctors of Naprapatic medicine (D.N.). In the U.S., however, practitioners may freely practice in states where licensing is not required. In other states, they are regulated. Only a handful of states in the U.S., such as New Mexico and Illinois, offer and require licensing.
Eligibility to become a naprapathy practitioner may occur via secondary disciplines as well. For instance, many massage therapists consider naprapathy an extension of their work and seek designation as a D.N. practitioner. For those practicing in states where licensing is not mandatory, they may obtain accreditation through an online program accepted by the American Manual Medicine Association, the North American Naprapathic Association, and/or the American Institute of Naprapathic Medicine. However, the most popular and best-recognized school is the National College of Naprapathic Medicine located in Chicago, Illinois.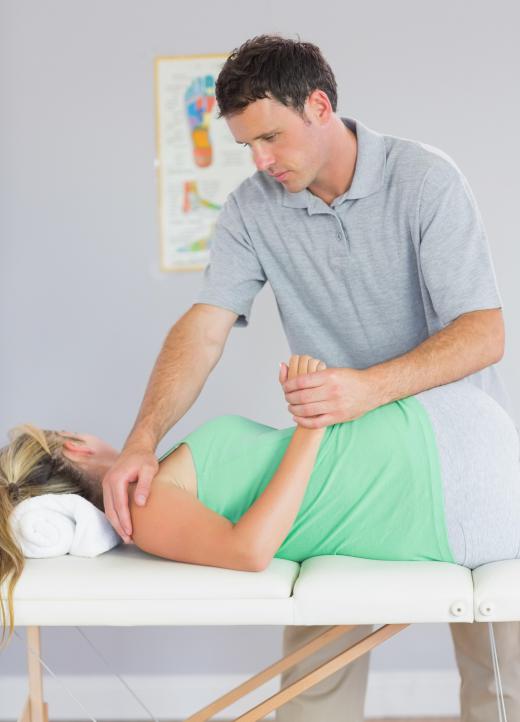 Many different types of conditions may be treated with naprapathic techniques. The list includes chronic migraine headaches, carpal tunnel syndrome, sciatica, and temporomandibular joint disorder (TMJ), among others. Of course, naprapathy is also used to treat recreational and sport-related injuries, such as sprains and even whiplash. In addition, many people with age-related joint, neck, and back pain obtain relief from naprapathic therapy. Aside from the available anecdotal evidence, several studies support the effectiveness of this bodywork in the treatment of these and other conditions.
What Is a Naprapathy vs Chiropractic?
If you're familiar with chiropractic spinal manipulation, you may be interested in learning more about naprapathy. These two modalities of bodywork are often grouped together in the field of natural or alternative medicine, but they are not the same. A naprapath, similarly, should not be confused with a "naturopath" or practitioner of natural medicine. Learn more below about each field of study as well as the benefits of seeing a naprapath and chiropractic doctor.
Naprapathy
Naprapathy is a bodywork profession that uses a combination of methods, including manual manipulation of muscles, fascia, and joints, to promote healing. In this way, it is similar to chiropractic care. Unlike chiropractic professionals, which exist all over the world, naprapaths are typically found in the United States and Scandinavia. If you're not from one of these areas (and even if you are), it's unlikely that you've heard the term. Many people are not as familiar with naprapathy as other types of alternative and complementary medicine.
Clients often turn to naprapathy for the relief of chronic pain. A qualified naprapath can do bodywork exercises as well as teach you how to care for your injury or chronic condition at home. A study published in BMC Musculoskeletal Disorders concluded that naturopathy can be a viable treatment with both long- and short-term results for patients suffering from back and neck pain.
Chiropractic
While you may not be familiar with your local naturopath, there's a good chance you've been to a chiropractor or know someone who has. According to the American Chiropractic Association, over 35 million American adults visit a chiropractor every year. Chiropractic care is popular in other countries as well — especially in European ones.
Chiropractors focus mainly on spinal alignment and adjustment techniques, and many claim that immune function can be restored through proper adjustment. These practitioners are trained at schools of chiropractic medicine and usually hold doctoral degrees.
What Causes Naprapathy?
The founder of naprapathy was originally a chiropractor who broke away from the practice to study soft tissue bodywork more intensively. The word "naprapathy" originated from the Czech term "naprapavit", which means "to correct". It was then combined with the Greek suffix "pathos", which means "suffering". Combined, the word refers to practitioners who aim to correct the cause of their patients' suffering.
Is Naprapathy Similar to Osteopathy?
It's similar, but it's not the same type of bodywork. Osteopaths are medical doctors who have completed a doctor of osteopathy, or DO, degree. This is similar to the MD degree. Both practitioners may adjust your body and pay close attention to your bones, muscles, and connective tissues, but their respective training is different.
Myths about Naprapathy and Alternative Practitioners
Because naprapathy is not a widely known field of study, there are many myths and misconceptions about these practitioners. Learn more below.
They Are Medical Doctors
Naprapaths, chiropractors, and other alternative medicine practitioners do not complete medical school or a doctor of medicine degree for their certification; however, they do attend school and are typically highly trained and qualified in their fields. Practitioners are trained to see the patient as a whole person rather than a collection of symptoms, and they are conscious of how a person's lifestyle and habits affect how their bodies feel. As with any type of practitioner, it's important to check the qualifications of anyone you wish to visit for a health consultation.
They Are Physical Therapists
Practitioners of naprapathy work closely with their patients to identify poorly working parts of the body in the muscles, the connective tissue, and specifically the fascia. They may rely on hands-on treatments, similar to a chiropractor's adjustments, to alleviate stress and tension in the muscles and tissues. Physical therapists, on the other hand, have been trained specifically to identify problem areas and strengthen them through specific exercises.
They Are Unqualified To Treat Patients
Naprapaths are often highly qualified to treat patients and have undergone training, schooling, or an apprenticeship (depending on their country of study) before working on any patients' bodies in a professional manner.
If you feel that a naprapath is not qualified, it may be worth checking his or her credentials or investigating online reviews. Did she or she receive a degree or undergo training at a reputable school? Is he or she licensed to work with patients in a private practice? Can he or she answer your questions directly without hesitation? Do your research before you visit any type of practitioner — whether they practice allopathic or non-traditional modalities of healing — to ensure that you have selected someone with credentials and real-life experience.
AS FEATURED ON:
AS FEATURED ON:
By: Subbotina Anna

Narapathic therapy might relieve headaches.

By: Monkey Business

A whiplash injury may respond well to naprapathy.

By: WavebreakMediaMicro

Narapathy is based on the principles of osteopathy and chiropractic techniques.

By: rob3000

Naprapathy therapy may offer relief for problems with the sciatic nerve, which can cause pain and numbness down the leg.

By: Hemeroskopion

Naprapathy often incorporates massage with other therapies, such as nutritional counseling and electrical muscle stimulation.

By: nyul

Carpal tunnel, which may occur as a result of repetitive typing, may be treated with naprapathic techniques.

By: Innovated Captures

A practitioner of naprapathy may be concerned with a person's emotional health.

By: DragonImages

Some practitioners of naprapathy may also be trained in psychotherapy.