What is Offline Data Entry?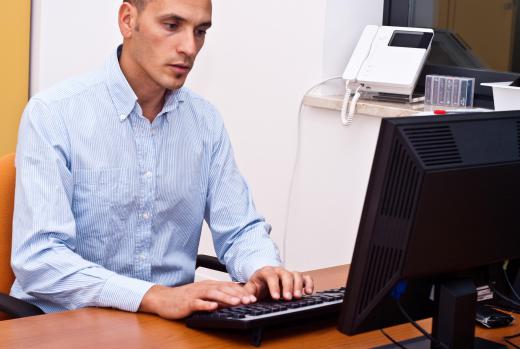 Offline data entry is the process of entering information into a list, spreadsheet, database, or word processing program without the need of an Internet connection. While the vast majority of companies conduct business online, there are several fields that still utilize this form of information processing. Law firms, medical institutions, financial companies, and individual businesspeople often deal in sensitive client data. Without being connected to the Internet, this type of data entry goes the extra step in ensuring private information is kept as classified as possible. It is also a way for companies to maintain low operating costs, skirting the need for costly databases and webforms.
A data entry clerk working offline can conduct business from a company office or from home. Home data entry has seen a growth in popularity as more and more people discover the ease and flexibility that comes with working from home. Many businesses utilize work from home opportunities as a way to tackle big jobs without spending a lot of extra money. Typically, home-based data entry clerks are hired as independent contractors, saving employers money on taxes and benefits. There are also third party companies that handle data entry outsourcing jobs and connect workers with available employment opportunities, but these companies normally charge a fee for their services and not all are legitimate; it's best to check with the Better Business Bureau to get an idea of a third party company's authenticity.
There are several different types of offline data entry. A common task in this field is the inputting of raw data into forms, lists, and specialized applications, such as entering addresses onto mass mailing labels. The bulk of offline database entry consists of transferring data not currently online and recording it in a new storehouse, either in the shape of a predetermined form, database, or word processing program. This process can be utilized for various purposes including marketing, sales, payroll, accounting, and customer retention purposes.
Those seeking work as an offline data entry clerk should be well-versed in standard office procedures. A fast typing speed, familiarity with computers and new types of technology, and knowledge of data conversion techniques are extremely desirable skills. A high level of accuracy is a must for anyone working in this field. While an active Internet connection is not necessary for offline data entry jobs, some positions may require access to certain computer applications, scanners, or information stored on CDs or DVDs.
By: Gandolfo Cannatella

A high level of accuracy is a must for anyone working as an offline data entry clerk.

By: Eugenio Marongiu

Many businesses utilize work from home opportunities to tackle big data-entry jobs at a relatively low cost.

By: Kurhan

Individuals who work in data entry positions are typically required to be able to type a minimum number of words per minute.