What is Pediatric Oncology?
Pediatric oncology is a specialty discipline in medicine concerned with diagnosing and treating children, usually up to the age of 18, with cancer. It is thought to be one of the most challenging of specialties because, despite successful treatment of many children, there is a high mortality rate still associated with various types of cancers. Losing pediatric patients can be extraordinarily difficult, as it goes against the normal course of life, and it takes strong-hearted people to work in this vitally necessary area of medicine.
There are many medical professionals who devote themselves to some aspect of this specialty. These could include the many medical technicians that may perform or aid in treatment as prescribed by a pediatric oncologist. Doctors of other specialties may be involved in some of this work including pediatric surgeons and pediatric radiologists. Some nurses also specialize in pediatric oncology nursing, and they will devote their careers to working with kids either suspected of having or who have cancer. Naturally, pediatric oncologists are doctors who are an important part of this medical field, and there may be others like pediatric oncology social workers, child life specialists, or family counselors that take part in the work.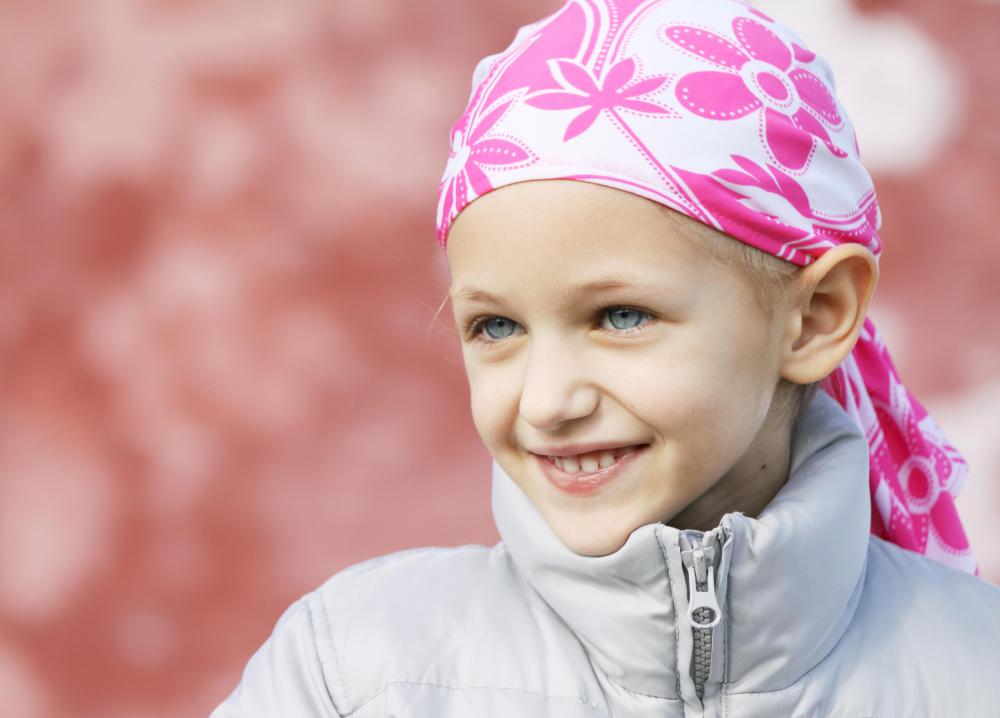 As a whole, the discipline of pediatric oncology concerns itself with diagnosing, treating, and hopefully curing cancer, and this may be done in a variety of ways. Sometimes a surgical method is indicated to removed masses or tumors. Alternately, chemotherapy, radiation therapy or even bone marrow transplant is needed. Various specialists may be involved in the different ways cancer may be addressed and include hematologist-oncologists, anesthesiologists, and radiologists.
Doctors who choose to become pediatric oncologists take a slightly different course in their education, when compared to adult oncologists. After completing medical school, they become pediatricians, and once they are board certified to work as pediatricians, they may choose to further specialize in oncology. It can take extensive study and about 14 years total of school to become a pediatric oncologist.
Though oncology for adults and children are related, there are very different things about the two specialties. Children respond quite differently to treatment, and they are best served medically when not viewed as "short adults." There are many doctors and other medical workers who spend time doing research to determine the best possible methods of practice on the child when it comes to treating or diagnosing cancer
Another consideration in care is that children very often come attached to families. Part of care has to include involving and educating families. The child will be reliant on caretakers to show up at appointments, remember medications and follow through on any other care instructions.
Many parents report appreciating a holistic approach to the treatment of their children that includes them in decision making and helps them understand how to best care for their kids. Clearly helping parents to suffer less stress and confusion during this difficult time is of benefit to children fighting difficult diseases. Pediatric oncology, while it may concern itself most with eradication of cancerous illness, may also need to reflect on how best to preserve a mentally healthy atmosphere for the child through providing parental support, as possible.
A pediatric oncologist specializes in the treatment of cancer among children and young adults.

Children are best served medically when not viewed as "short adults", as they respond differently to treatment than mature individuals.

There are several types of cancer that are linked to high mortality rates among child oncology patients.

A pediatric oncology nurse may be responsible for taking a patient's vital signs.

Some pediatric oncologists may focus primarily on one type of cancer, such as in the bones or blood.

Due to the high mortality rate associated with some types of cancers, pediatric oncology is considered to be one of the most challenging medical specialties.

Radiation is one of the most precise and effective treatments for pediatric brain tumors that cannot be addressed through traditional surgery.