What Is the Difference between a Network and System Administrator?
Computers and computer networks are integral to the functionality of most organizations. Care of these systems falls in the hands of Information Technology (IT) professionals known as network administrators and system administrators. The difference between a network and system administrator lies in what part of the computer system they are managing. A system administrator manages an organization's computers, while it is the job of the network administrator to manage the way computers communicate with each other.
Both a network and system administrator often find themselves needing to understand how to configure and troubleshoot computers on their network. In addition they both often have to understand the basics of networking, if for no other reason but to aid in the troubleshooting process. The system administrator will typically have the task of handling issues of smaller scope, such as computer user problems and hardware issues. A network administrator, on the other hand, deals with larger-scale issues, such as network security and managing interactions between computers.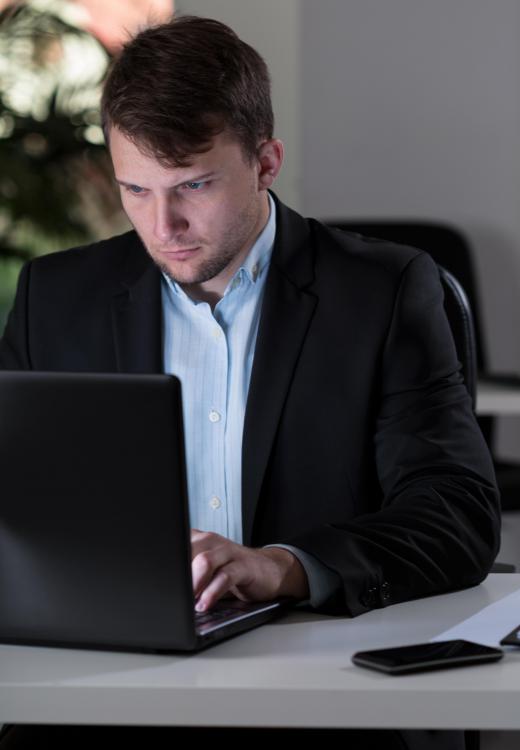 System administrators must know the operating systems used by all computers in the organization's computer operating system intimately. Their job is to manage other computer users by adding and deleting user accounts, as well as troubleshooting hardware and software problems. The system administrator is typically the first person that users come to when there is a problem. Some larger organizations hire a technical support department to advise users on how to solve their own issues, but if this doesn't work the problem is escalated to the system administrator.
Backing up data, performance optimization and applying updates and patches to computer software and operating systems are all jobs performed by the system administrator. He is also typically capable of writing small pieces of software, called scripts, which automate certain computer tasks. A system administrator also handles security issues that could grant an intruder access to a computer.
If an organization needs to add more computers to its network, it will look to its network administrator to plan and execute a strategy for expansion. When it comes to networking, a major difference between a system and network administrator is that the network administrator is the last line of defense. Problems that a system administrator cannot resolve are typically network-related, such as security breaches by intruders from outside the organization, and must be handled by a networking professional.
Network administrators may also fulfill the role of network engineers. This involves designing and building entire computer networks from scratch. Their skills are key assets when it comes to establishing a new organization's IT infrastructure.
The types of certification that are useful or required for a network and system administrator also differ. System administrators may need certifications such as the Microsoft Certified Professional (MCP) or the Red Hat and CompTIA series of certifications. A network administrator, on the other hand, may need not only that, but also various other certifications related to Cisco and Novell networking hardware and technology.
Salary rates are similar between the network and system administrator professions. Since network administrators can also be network engineers, however, their potential pay may increase significantly. Network administrators who also perform system administration tasks have the highest level of job security due to their importance to the organization where they work.
By: ambrozinio

Both network and system administrators should understand how to troubleshoot issues, including testing cables.

By: Hunta

A system administrator will have the task of handling computer user problems.

By: Photographee.eu

A network administrator deal with large-scale issues, such as network security and managing interactions between computers.