What is the Difference Between Non-Tenure and Tenure Track Faculty?
Non-tenure track faculty are typically hired on a contract basis, focusing mainly on teaching, while tenure track faculty are on a path to permanent employment, balancing both teaching and research. Each role has unique benefits and challenges. But, how does this impact the quality of education?
A tenure track faculty member is one who was hired on as an employee with the possibility of receiving tenure within a few years, which would guarantee him or her employment for life. This person would need to work on a probationary period while the school evaluates his or her teaching abilities. Schools will set criteria to determine if the faculty member will be asked to stay on as a tenure employee. This probationary period generally lasts between five to six years, and then a tenured position is offered. Once tenure is granted, the employee will have great job security because the school will not be able to terminate him or her without a good reason.
Since the early 1900s, many employers in the education field have offered their professional employees the opportunity to begin their employment as a tenure track faculty member. The tenure track system was originally designed as a method to maintain high quality teachers and professors with the goal of creating a better educational environment. The thought was that if a teacher or professor was offered tenure, he or she would be more likely to maintain continuous employment with the school or university. Educators thought that this would provide their schools with higher-quality teachers who were loyal and would create long-term programs for the school.
A non-tenure track employee is one hired without the benefit of being offered a tenured position sometime in the future. Usually, these employees are hired for a set period of time and are given a contract that includes an end date for employment. These contracts can be renewed and the employee can continue working, but the school is by no means obligated to retain them. Non-tenure track employees are often hired by the school for a specific purpose, like to set up a program or run a special class.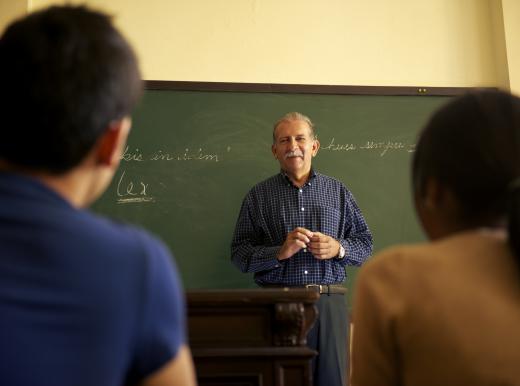 There is a distinct difference between tenure and non-tenure track faculty. Almost all professors and teachers used to be hired on the tenure track, but due to constant changes of the economy, many schools and universities are turning away from this practice. Each year more non-tenure faculty members are being hired as educational institutions are realizing the financial benefits of hiring by this means. The greatest benefit to the schools is that if they hire the non-tenure employees as temporary or part-time workers, they will not have to pay them as many benefits. They also will not be obligated to keep the teacher or professor on staff, allowing them to change employees around as they see fit.
AS FEATURED ON:
AS FEATURED ON:
By: nyul

Tenured professors generally have more academic freedom.

By: diego cervo

Tenure provides certain faculty members with permanent employment contracts at colleges and universities.

By: Monkey Business

Tenured professors often offer less support to students.