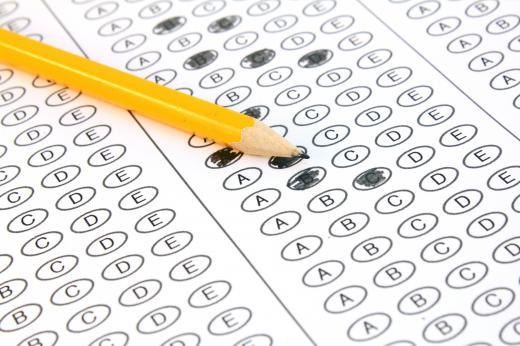 Passing the Fundamentals of Engineering (FE) exam is the first step for anyone in the United States who wishes to become a licensed professional engineer (PE). Most students studying engineering take the exam during their final year of college, but people who have previously graduated are eligible to take it as well. Those who pass the FE exam receive certification as an Engineer-in-Training (EIT) or an Engineer Intern (EI), depending on the state.
The FE exam is offered twice a year, in April and October. Students studying engineering or engineering science at a university accredited by the Accreditation Board for Engineering and Technology (ABET) are eligible to take the exam during their last two semesters of school. In some states, these students are automatically approved to take the exam, but in others they must apply. Other people who are eligible to take the exam, such as those who have previously graduated or qualify based on work experience, must submit an application to be approved to take the exam.
The National Council of Examiners for Engineering and Surveying (NCEES) develops and administers the FE exam. The organization publishes the "Fundamentals of Engineering Supplied-Reference Handbook," which is the only reference material allowed on test day. This handbook includes formulas and facts necessary for each section of the exam as well as units and conversion factors. It is available beforehand so that test takers can use the handbook to study. NCEES supplies most exam day materials, including pencils and scratch paper — test takers are only allowed to bring an approved calculator.
The FE exam consists of two four-hour sessions with an hour break in between. In the morning, the general section of the exam is administered, consisting of 120 multiple choice questions. Questions on mathematics comprise the largest subject of the general section, with about 15 percent of questions being on math. The statics and dynamics, chemistry, and electricity and magnetism sections each comprise nine or 10 percent of the test. Statistics, computers, ethics, engineering economics, strength of materials, material properties, fluid mechanics, and thermodynamics are also included in the general section.
In the afternoon, test takers choose an exam module based on their discipline of engineering. Seven modules are available: chemical, civil, environmental, electrical, mechanical, industrial, or a general module containing more in-depth questions on the subjects covered in the morning exam. Each module consists of 60 multiple choice questions.
The FE exam is scored on a pass-fail basis. Subject-matter experts determine what score indicates "minimal competence" and this score becomes the cutoff for passing. Examinees receive their results about eight to 10 weeks after taking the exam.
By: R MACKAY

A typical answer sheet for a multiple choice test, like the FE exam.

By: Igor Mojzes

The Fundamentals of Engineering (FE) exam is is typically administered during a student's final year of undergraduate study.