What is Virtual Education?
Virtual education refers to a variety of teaching formats that don't involve students and instructors collaborating in person, at least not in the same room. While some of these forms of education do involve real-time meetings, the teacher and student usually are in different locations and connected via computer to each other. Moreover, not all forms of virtual education feature real time connections. Sometimes material is prepared in advance and any discussion occurs with time delays, such as discussion over email. These varied forms of virtual learning continue to increase in popularity and provide alternatives to the face-to-face learning environment of the traditional classroom.
Teachers began to experiment with virtual education soon after the Internet was born. Early in the 1990s, it wasn't unusual for some teachers to employ multi-object oriented (MOOs) sites to conduct at least some instruction. With increasing Internet functionality, it soon became possible to teach whole classes online or with no or very few in-person class meetings. This idea was used to some extent in universities and junior colleges to offer greater flexibility in learning modes to students.
It also created an entire secondary industry of colleges and now grammar and high schools that are conducted through virtual education. Though these vary in quality, they have provided an opportunity for many to pursue education that wasn't open to them in other ways. For a variety of reasons, many people can't get to a physical location — like a college campus — to learn, but they can easily learn from their computers and virtual connection to teachers.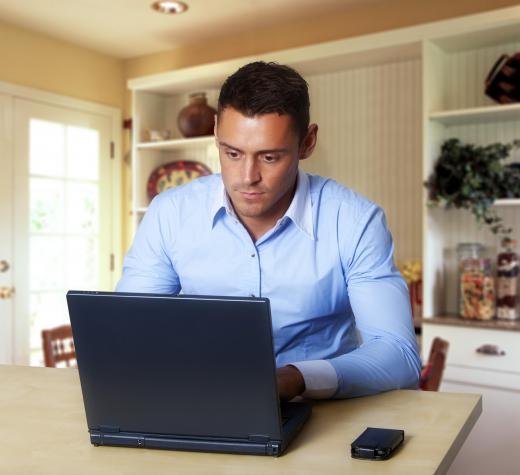 There is diversity in how virtual education is conducted. Some classes may be conducted in real time, connecting teachers to students with video conferencing software, by chat room, or in virtual worlds like Second Life. Other classes offer students textbooks and assignments, and any question the student has is addressed by email. Completed assignments are emailed to instructors. Additional instruction modes could include reading materials sent by instructor to student or video or audio files, which are essentially "lectures."
A plethora of possible outcomes or goals might be achieved by virtual education. In some forms, it is merely informative, though the quality of information cannot be denied as excellent. For example, people can freely access full podcasts or recordings of entire courses at some of the best universities in the world. Unfortunately, listening to these podcasts doesn't result in college credits.
There are few programs offered for free that can result in a college degree, but there are a number of online high schools that are free, accredited, and might provide an alternative means to earning a diploma. Numerous bricks and mortar colleges do offer at least some classes in a virtual setting, and then there are whole schools that use principally virtual education. These vary in price, aren't always accredited, and need to be evaluated for quality and reputation.
AS FEATURED ON:
AS FEATURED ON:
By: Marcel Mooij

Virtual education programs don't always provide the same level of feedback students get when meeting with teachers in person.

By: a4stockphotos

Virtual educations are popular with young professionals who might not have the time to commit to a traditional classroom education.

By: takasu

Grammar and high school education are now carried out through online, computer and other virtual methods.

By: Tyler Olson

Students attending high school online often have parents who track their progress and assist as needed.

By: carlosseller

Video conferencing allows students to communicate with teachers in real-time.

By: xalanx

People taking a virtual education may be hindered if they experience Internet issues.

By: Monkey Business

Some virtual degree programs may require that students complete limited classroom time as well.