What is Vocational Nursing?
Vocational nursing is a rewarding healthcare career focused on providing basic patient care under the supervision of registered nurses or doctors. It's a stepping stone to advanced nursing roles. Are you ready to explore the diverse opportunities vocational nursing can offer in the healthcare industry?
Vocational nursing is a medical career that centers on patient care in a range of different settings. In most cases, nurses in this field need only basic training, and they do not typically have the responsibility of registered nurses (RNs) or physicians. They can typically do more than nursing assistants, though, and their work is often seen as critical to a range of different medical and health care ventures. Vocational nurses work in clinics, doctors' offices, and hospitals, and can sometimes also be found doing outpatient work and visiting patients' homes. The field is a very broad one, and a lot of the specifics of what the job can cover varies from place to place.
Basic Job Outline
The primary job of any vocational nurse is patient care. He or she is usually one of the first people to interact with patients when they arrive at a clinic or hospital and is often responsible for doing preliminary things like taking the patient's temperature and blood pressure. In hospitals and long-term care facilities, these nurses may also be tasked with hygiene-related duties — bathing patients, for instance, or cleaning up spills of blood or other bodily fluids.
Position in the Nursing Hierarchy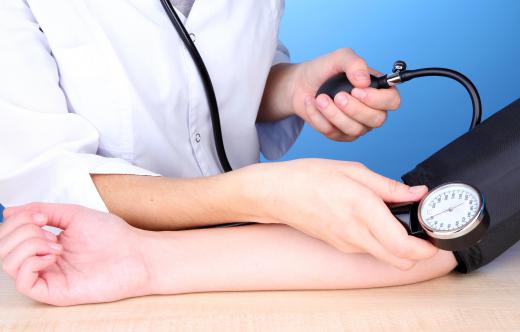 The nursing profession can usually be broken down into three main "levels," or tiers. At the bottom are nursing assistants, who often have very minimal training, while at the top are registered nurses, who often hold master's degrees or other advanced degrees. Vocational work usually falls squarely in the middle. These professionals have some training and autonomy, but typically lack the ability to make diagnoses or undertake involved procedures.
Settings and Types of Work
Most vocational nurses take jobs in hospitals and doctor's offices, and are often employed by local or national governments. Some find work in nursing homes, hospices, and rehabilitation centers, often working alongside physical therapists and end-of-life care providers. Others work as home care professionals, making house calls to invalids and others who need bedside assistance. These nurses can either work as contractors, usually in conjunction with RNs or private medical care providers, or hold positions with independent companies.
Jurisdictional Variations
Different places tend to have very different rules about what, exactly, this type of nursing can cover. In most places, nurses need to be licensed, which gives rise to the common phrase "licensed vocational nurse." Even with formal credentials, however, the scope of the work can be quite different from country to country, and even sometimes between states or provinces.
A lot of the disparity has to do with the sort of care that the nurses are providing. Laws in many places are very strict about the who is eligible to provide "direct patient care." Things like giving injections, drawing blood, and collecting urine specimens often fall within this category, and as such are often restricted to people with more advanced training. Much of what this type of nurse can do depends on how the laws are worded in his or her jurisdiction. As a result, people who are licensed in one place cannot always immediately find work in another — at least not without learning a new set of rules and possibly re-certifying.
Supervision
In most places, professionals in the field require constant supervision. Physicians or RNs are usually required to directly oversee them, and both double-check their work and encourage them in their role as caregivers. Local laws usually set out the specific rules of supervision, but even a very experienced vocational nurse usually cannot work independently. Busy clinics and hospitals often allow more leeway in order to make sure everyone is cared for, but it is almost always the case that work is being reviewed by a superior even if this relationship is not immediately obvious.
Training Requirements
A person interested in a career in vocational nursing must usually complete a one-year course of study in nursing, often from a community college or vocational school. Coursework typically focuses on basics like anatomy, physiology, and basic patient care, and at least some hands-on practical experience is usually required. Some schools offer coursework over the Internet, often with interactive elements that allow students to virtually experience a range of different nursing settings. Licensing boards sometimes set rules about which programs are acceptable, though, which makes it important to thoroughly research local requirements before enrolling in any sort of preparatory course.
In most places, graduates must pass a national or regional certification exam before they can begin work. Some jurisdictions also require a certain number of hours of practical experience in the field. Though time consuming, most people agree that this requirement is actually beneficial to candidates — even a basic familiarity with the day-to-day workings of the field can make it easier to apply concepts from textbooks, which can actually increase a person's chances of passing a certification exam.
Promotion Potential
Vocational nurses who have worked in the field for many years are often able to gain seniority in terms of scheduling and shift preferences, but there is rarely room to advance when it comes to duties or complexity of work. A lot of this is regulated by law, which means that no matter how hard a nurse works, he or she is unlikely to advance much without additional training.
Many people use vocational nursing as a stepping stone to more advanced medical work. A person who isn't sure if he or she likes health care enough to commit to more intensive nursing or medical school might choose to start out as at this level in order to test things out. This is not usually required, but many advanced training programs do find a background in nursing to be an asset, as it shows passion for the field as well as demonstrated aptitude for patient care.
AS FEATURED ON:
AS FEATURED ON:
By: pablocalvog

Vocational nurses may work in clinics.

By: Africa Studio

Vocational nurses are usually responsible for taking a patient's temperature and blood pressure.

By: Gabriel Blaj

Vocational nurses typically do not have the responsibility of registered nurses.

By: Tim UR

Things like drawing blood often require advanced training.

By: Sandor Kacso

Vocational nurses may specialize in certain fields of care, such as geriatrics.