How Do I Become a Bank Teller?
A bank teller is an entry level job at a bank, though it is rare that a bank will hire someone without any work experience. This is because the bank wants to be sure anyone who wants to become a bank teller has some experience providing customer service and handling money responsibly, since he or she will be handling much larger sums in a bank, and will be expected to do so honestly. It is very important that anyone who wants to become a bank teller can do this successfully. Generally, at least a high school diploma or GED is required as well, and you will generally need to be at least 18 years of age in order to work in a bank.
If you want to become a bank teller, you should have a fairly good aptitude with math and money. Though most of the math is computerized, it still helps to know what you are doing. Experience counting and dealing with money, and making change, are also good skills to have. There are various ways to get these skills. Many people begin working in a retail position first, such as a cashier at a clothing outlet or grocery store. This allows them to gain customer service and money handling experience, and can look great on a resume when applying for a bank teller position.
It will then be necessary to fill out an application and submit a resume, if applicable. Any work experience where you can demonstrate that you behaved responsibly, performed tasks as requested, and arrived on time can be helpful if you wish to become a bank teller. It can also indicate that you are capable of working well and getting along with others, and performing work as part of a team, which is very important in any workplace. Be sure the application is neat and free of any errors. Many banks allow applications to simply be completed and submitted online now.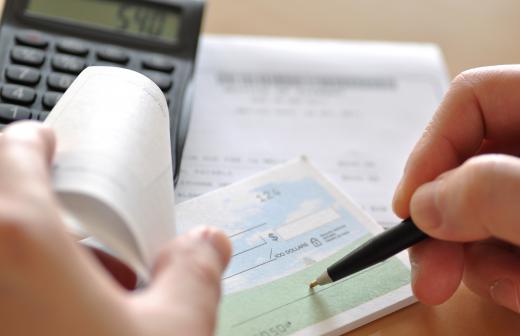 Once invited for an interview, you should dress professionally in business clothing, and arrive a few minutes early. Be prepared to ask questions, which makes you seem more interested and knowledgeable about the job. You should also be ready to discuss your previous work experience, and explain why you want to become a bank teller at this particular bank. In general, anyone being hired at a bank should expect to receive a background check, credit check, and a drug test. The employers cannot do this without your permission, but you will need to sign forms to allow it before getting hired.
AS FEATURED ON:
AS FEATURED ON:
By: Sheri Armstrong

Some bank tellers serve customers from their cars.

By: JJ'Studio

Bank tellers should be comfortable handling other people's money.

By: tashka2000

A bank teller must be able to do basic math and count money quickly.

By: sakura

Bank tellers can provide customers access to safe deposit boxes to store valuable possessions.

By: zest_marina

Honesty and attention to detail are considered important qualities for bank tellers to posses.