How do I Become a Biology Professor?
To become a Biology Professor, you need a Ph.D. in Biology or a related field. This is followed by gaining teaching experience, often as a postdoctoral fellow. Publishing research in academic journals and staying updated with advancements in the field is also crucial for this career path.
To become a biology professor, a person needs to be employed as a biology teacher at a college where all teachers are designated as professors, or must have gained a Ph.D. in biology and work at least part-time as a teacher. Professors are usually viewed as teachers with a specific level of education, though it is certainly possible for a biology professor to conduct research or participate in other academic endeavors. Anyone wanting to become a biology professor faces years of training that can begin as early as high school.
Anyone planning to go to college and major in the sciences should make math and science a strong focus in high school. It is sometimes possible to take advanced placement courses that confer college credits. While these are advised for strong students, there's no shame in waiting until college to earn these credits and taking less rigorous classes in high school. The advantage of advanced placement is people can enter school with a few college credits and could begin more advanced studies immediately. Principally, students should simply make sure they've studied hard in biology and chemistry, and have taken classes up to calculus or pre-calculus.
In college, work to become a biology professor begins by declaring a major in biology. To fulfill this major students take general education, required courses, and recommended electives. Students should work hard to get excellent grades and take opportunities to work for professors. A person can't become a biology professor without attending graduate school, so establishing good relationships with professors can lead to obtaining strong grad school recommendations.
A few students after getting a B.A. or B.S. in biology will choose to aim for an M.A. or M.S. degree. With this degree, the only way to become a biology professor, usually, is to work at junior or community colleges. Someone lacking the Ph.D. doesn't get this title unless junior or community colleges use it, and many of these colleges don't hire teachers who lack doctorates. Normally, the best choice is to gain entry to a doctoral program, as this can greatly increase employment opportunities.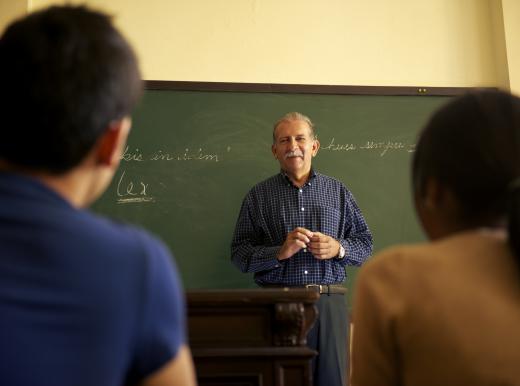 Earning a doctorate takes time, and the person wishing to be a biology professor can expect to spend three to seven years completing a program. People who really want to focus on teaching may enjoy opportunities to teach while pursuing classes, and most people also complete some or a great deal of research which can lead to publication of results. This second part is important since many universities want to know that professors can and will publish, adding to university prestige.
Once finished, students begin the work of finding employment, which is again helped by things like publishing and strong recommendations. New teachers will probably need to put continued and extra effort into their work. They are often hired on tenure track, meaning they must publish a certain amount early in their career to receive full professorship status. A few schools and most community colleges don't have such stringent requirements.
AS FEATURED ON:
AS FEATURED ON:
By: markos86

A biology professor may teach lecture classes as well as lab courses.

By: Tyler Olson

Biology professors may teach theories in a traditional classroom, then have students apply that knowledge later.

By: diego cervo

A biology professor is often hired on tenure track.

By: Monkey Business

A biology professor may be expected to publish research in scholarly journals.

By: Syda Productions

A biology teacher is responsible for grading papers and tests.

By: Monkey Business

College professors are typically required to make themselves available for a certain number of office hours.