How Do I Become a Chairman of the Board?
Becoming a Chairman requires significant experience, leadership skills, and deep understanding of the company's industry. Start by gaining relevant qualifications, working in executive roles, and serving on boards. Networking and demonstrating strategic vision are also crucial steps towards this prestigious role.
Getting on the board of directors in itself requires a commitment to education as well as extensive, successful experience in an executive leadership role in business. To accomplish this, an executive will need to get an invitation from the members already on the board to serve as either an inside director of an outside director. Only after being admitted to the board will an executive have the opportunity to become a chairman of the board. Securing this position often will require the other board members to unanimously vote for the executive to chair the board. Board members are charged with important responsibilities, requiring actions taken, to be in the best interest of the organization, and it is the chair person's job to keep the board focused on fulfilling those responsibilities effectively.
Business professionals aspiring to be chairman of the board will first need to complete graduate studies in business. Most boards will want to see at least a master's degree, but doctorate degrees are increasingly becoming more of a requirement. Often, potential candidates will need to specialize in a particular area of business so that they can offer expertise as a director to complement the other experience and expertise on the board. Advanced education in business-related subjects demonstrates a potential candidate's commitment to excellence business.
There are generally two ways to get on the board of directors: through an invitation from board members or through a vote by shareholders. How this happens will depend on the organization itself and its bylaws. Many organizations have two types of directors, referred to as inside and outside directors. Inside directors are employees, stakeholders or shareholders of the company, while outside directors are usually executives in other industries sought after for their expertise and success in solving business challenges. Either route, however, will require extensive experience to receive such an invitation or to have one's name put forward for a vote.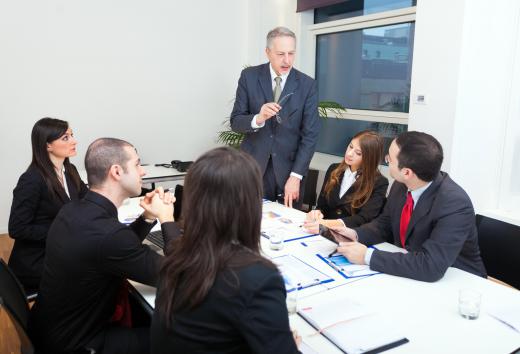 Once admitted to the board through acceptance of an invitation or confirmation through the vote of shareholders, a director has the opportunity to become a chairman of the board. Unless an organization's bylaws state another method, in most cases, a chairman vacancy is voted upon by the rest of the board. Whoever receives the majority of votes then chairs the board. Once elected or appointed, the chairman acts as the head of the organization during meetings and represents the company publicly as well.
Public corporations may have two different chairmen, executive and non-executive. Non-executive chairmen are usually outside directors with limited duties that often include chairing meetings, evaluating the organizations Chief Executive Officer (CEO), and coordinating the board's activities. Executive chairmen, on the other hand, are usually CEOs as well and represent a company publicly. Either way, to become a chairman of the board will require extensive executive leadership experience.
AS FEATURED ON:
AS FEATURED ON:
By: BlueSkyImages

Usually, all members of a board of directors vote for a chairman.

By: Minerva Studio

An individual may become chairman of the board via invitation from board members.