How do I Become a Commercial Leasing Agent?
A person who wants to become a commercial leasing agent generally needs good customer service skills and selling ability. There are no ironclad educational requirements for a person in this field, but a high school education is usually expected. Those who earn college degrees may gain more favor when applying for jobs, however. In some places, a person who wants to become a commercial leasing agent will need licensing as well.
The skills a person needs to become a commercial leasing agent are those required in most sales positions. An individual in this field needs to know how to talk to customers and answer questions with both patience and courtesy. Developing sales ability is very important as well, as a commercial leasing agent often has to demonstrate the merits of leasing particular properties. Such experience can be gained in any type of sales-related position. If a person can gain this experience by working for a commercial real estate or leasing agency, however, securing a job may be easier.
Most people who hire commercial leasing agents expect them to have high school diplomas, but earning a degree may prove helpful. An individual interested in this career may seek a degree in business, real estate management, or a related field. There are also training courses a person may take in pursuit of this career. Real estate agencies, community colleges, vocational schools, and some adult learning centers may provide property management or real estate courses, for example.
In some places, a person who wants to become a commercial leasing agent has to secure a real estate license before starting this career. To obtain a license, a person may have to complete a jurisdiction-approved real estate course and then pass an exam. Licensing isn't required in all places, however. An individual should check with his local licensing bureau or real estate commission to learn what he will need to secure a job.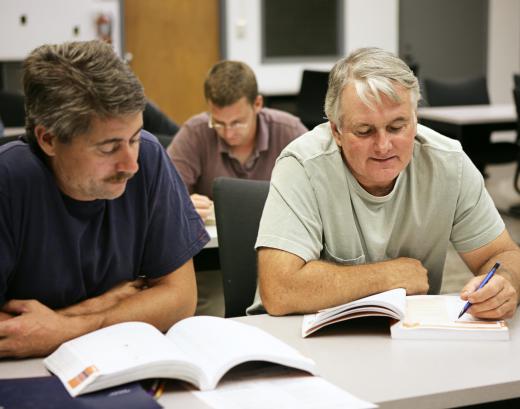 Since commercial real estate differs from residential property, an individual interested in this field should spend some time learning about leases and landlord-tenant laws. He should also gain some knowledge of contract law. In preparation for this job, it may also prove helpful to learn common leasing terms, as the aspiring leasing agent may have to explain them to a potential tenant some day.
Once an individual is ready to begin working as a commercial leasing agent, he may approach property owners for work. He may also check for opportunities with real estate brokers. Others may start independent businesses, advertising to help both individuals looking for property to lease and those who own commercial property.
AS FEATURED ON:
AS FEATURED ON:
By: pds209

A commercial leasing agent may be responsible for leasing office buildings.

By: andiafaith

Commercial leasing agents generally need good customer service and sales skills.

By: Lisa F. Young

Becoming a commercial leasing agent typically requires obtaining a real estate license.