How Do I Become a Croupier?
The requirements to become a croupier can vary by nation, as laws concerning gambling, casinos, and related activities are very diverse. It is often necessary to have a license, some advanced education is helpful, and experience in the industry is a must. Experienced and well-trained croupiers may have job opportunities like travel and film work, which can be something to consider for someone who wants to become a croupier.
At a minimum, a croupier needs a high school diploma. Casinos may prefer trainees with degrees in hospitality, customer service, and similar matters. A two year degree or technical school certificate can be sufficient, although a bachelor's degree may be weighed more heavily. In casinos with large numbers of foreign patrons, foreign language skills are also an asset for an applicant who wants to become a croupier. Multilingual applicants may be preferred in some settings and can be important for people who want to work in exclusive casinos and clubs.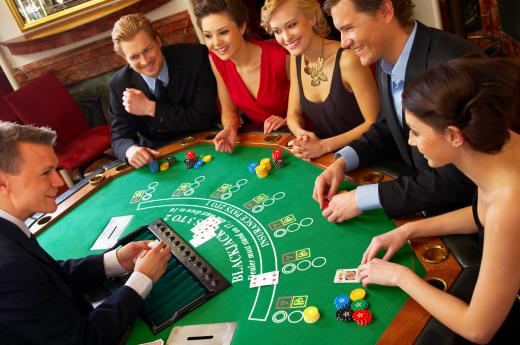 Applicants for croupier positions usually need to have experience. If they haven't worked in the industry, they will need to start in lesser positions within the casino hierarchy. This will give them an opportunity to learn the trade, familiarize themselves with the games, and watch croupiers at work. Since a license is often required, while trainees learn, they can also study the relevant laws and prepare for the examination they may need to take to get a license.
As a person who wants to become a croupier gets work experience and has opportunities to practice, she can start to work her way into a croupier position. The facility may test employees to see if they have the customer service skills and gaming knowledge for the position. Initially a trainee may work under supervision, at low-stakes tables. As the trainee advances, she can work independently and may start working on higher stakes tables with important customers.
After training to become a croupier, it is possible to pursue positions in other facilities, if a croupier is not satisfied with his current employment. Many of these positions are not widely advertised, and it may be necessary to cold call casinos, cruise lines, and other venues to determine if they need gaming staff. The more experience and skill a croupier has, the more jobs will be open to him. Letters of recommendation and reference can also be helpful, as managers usually seek croupiers with excellent personal records in addition to any licenses or approval documents required by law.
AS FEATURED ON:
AS FEATURED ON:
By: Yuri Arcurs

Language skills are an asset for croupiers working in casinos with large numbers of foreign patrons.

By: Elnur

Las Vegas is one destination for a person who wants to become a croupier.

By: Vojtech Vlk

Croupiers are in charge of spinning the wheel during a game of roulette.