How do I Become a Dock Worker?
There are very few major skills one needs to acquire before trying to become a dock worker. Given the fact that you could be working with a great deal of property, some of which is very expensive, being trustworthy may be the most important aspect. Having basic math and communication skills is also helpful if you want to become a dock worker. Many in the occupation may not even have a high school diploma, but experience working with various industrial equipment may be an advantage.
To determine the character of an individual, the company doing the hiring may depend heavily on references. Many companies ask for both personal references and professional references in order to become a dock worker. Therefore, it may be necessary to have at least one job prior to becoming a dock worker. It may also help if you have someone who can speak to your character who is already employed by the company where you are seeking employment.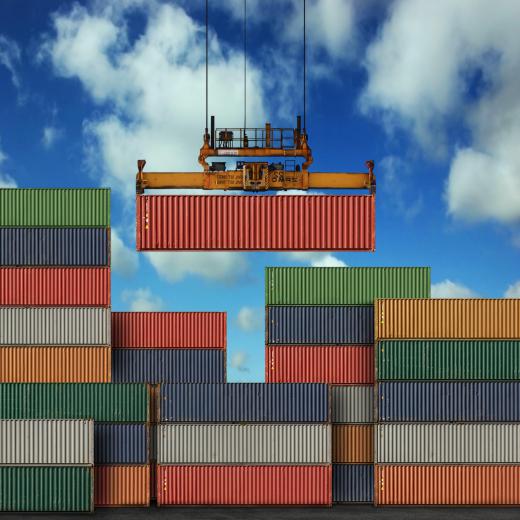 The main job of a dock worker is to load and unload containers, trailers and other types of storage units that may hold a variety of freight. Therefore, making sure you are in good health is critical if you want to become a dock worker. The work is very physically demanding, and often requires standing for long periods of time, and may also require bending, stooping, and heavy lifting.
Though a formal education may not be the most important aspect of working in the shipping industry as a dock worker, the ability to operate some forms of industrial equipment could be important. Therefore, if you have experience operating a forklift, or can attend a class that teaches the skill, you may have a better chance to become a dock worker. In some cases, you may also be able to learn to use a forklift while on the job. Those who do this may start out by using a hand pallet jack, or some other type of equipment.
Given the fact that you may be handling some heavy equipment, a drug test is often required in order to become a dock worker. Further, random drug tests may be given by some companies. Therefore, it is necessary to make sure you are drug-free when working as dock worker. If you refuse to take a drug test, you could be fired on the spot. The same is true if the drug test returns a positive result.
AS FEATURED ON:
AS FEATURED ON:
By: Binkski

Dock workers may have to become familiar with intermodal shipping systems.

By: Nightman1965

Graving, or dry dock, workers may be tasked with ships with hulls that have been damaged below the waterline.

By: Daniel Ernst

There are no particular educational or professional requirements for becoming a dock worker.

By: potowizard

Dock workers must be in good health and physical shape.