How do I Become a Fashion Designer?
The world of fashion design is quite large — there is no single way to break in as a newcomer, though getting a formal design education and building up work experience in the field are two of the best things to do when you're getting started. Most people begin the quest to become a fashion designer by working in lower-level positions at design firms, often as personal assistants or administrative help. These jobs will allow you to get your foot in the door and make the contacts you'll need to build up a name for yourself over time. It's important to set your sights on being a designer early on, but it isn't always possible to jump into this role without a lot of background experience. Planning and careful strategizing are essential.
Art School Education
Many people begin their fashion careers by getting a degree, or at least taking a few key courses, in clothing design and basic patterning. Actually making and designing garments is only a small part of most programs, though. In order to be successful in the "real world," you'll need to understand marketing — that is, how to sell your creations and drum up interest and demand — as well as more business-oriented skills like accounting and profits management. Most degree programs in fashion are broad enough to cover all the skills you'll need to succeed, not just those you'll need to get noticed.
Apprenticeship and Work Experience
In most places you can also break into the field by studying under an expert. This is particularly true of the major design houses in the couture fashion world. Top designers will sometimes hire apprentices to learn the tools of the trade in a direct, one-on-one way. This sort of set-up is usually designed to be somewhat long term, often with the understanding that the apprentice will one day work as full-time designer in his or her own right.
Direct apprenticeships are somewhat rare, as most designers only have the time and energy to train one person at a time. The positions are coveted, and as such they are often extremely competitive. If you are serious about working in the fashion world but aren't able to find an apprenticeship, you may be able to at least get your foot in the door by looking for more menial work. A number of top designers began as receptionists, makeup artists, or photography assistants within fashion firms. This sort of experience will allow you to get a feel for the industry from the inside, and will also help you make the connections you'll need to advance. When top designers know your name or can vouch for your work, moving up to jobs like junior designer or drafting assistant is often much easier. Having inside information about when these jobs are available can be really helpful, too.
The Importance of a Portfolio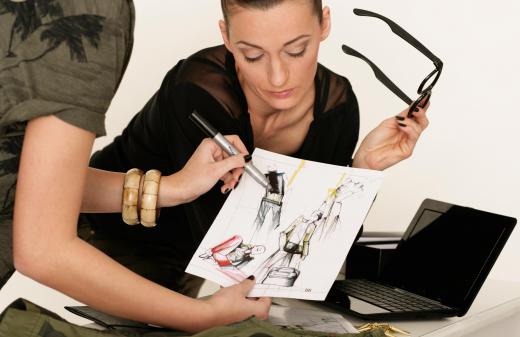 One of the first things most employers will want to see as you're applying for jobs is your portfolio. This is basically a sample of the sort of work you can do, and it serves as visual representation of your creativity and taste. The most compelling candidates usually have a range of different samples in their portfolios — there may be specifications for a ball gown alongside a business suit and a leisure outfit, for instance. Accessories like scarves, shoes, and sunglasses are usually also included. Your portfolio doesn't have to be extensive, but it should provide a good snapshot of your interests and abilities.
Required Skills
The best fashion designers start with a vision for clothing, but success is often as much about business savvy as it is about creativity. In addition to designing outfits, you'll also need to convince others that your ideas are worth making — and in many cases worth paying a lot of money for. Top fashion labels have the hardest time with this aspect, but even more mainstream clothing designers usually have to convince someone to take their ideas seriously, even if it's just a boss or a regional buyer.
A good eye for detail is essential, and skill in sketching and drawing is usually helpful as well — though in many cases, artistic ability is not as pivotal as it once was. Many modern firms use computer programs and other technological tools to draft patterns and design specifications. Creativity and originality is more important than drawing skills in most cases, though working with computerized systems requires a skill set all its own.
Choosing fabrics and sourcing production in a way that maximizes profit is also part of the job, and networking and people skills are important, too. Outside of the studio, you'll be expected to attend fashion shows and society events and interface with buyers, marketers, and members of the press. The earlier you're able to master the skills needed to do these things well the better positioned you will be to succeed.
Different Work Settings
Many of the best-known fashion designers work for major international labels, but the field is much broader than this. Nearly every piece of clothing has been created by someone, though designers at mass-produced brands often have far less control — and get far less credit — than those working in the couture world. As you begin to put your career plans into action, it's important to think about what sort of work you want to be doing. People who create sportswear usually take a different path in terms of their education and training than those who design jeans, business attire, or formal gowns. In many cases the work experience is somewhat interchangeable — you can often start in one sector, then transition to another — but having some idea of where you hope to end up can help get you started in the right direction.
AS FEATURED ON:
AS FEATURED ON:
By: kalou1927

Fashion designers must grasp the fundamentals of garment fit and manufacture.

By: illustrart

Sketching remains an important skill for fashion designers.

By: PhotoSG

Fashion designers create new clothing and styles.

By: Peter Atkins

Fashion designers may work with private clients to create individual looks.

By: Miravision

Some fashion designers design glasses and sunglasses.

By: fotoatelie

Fashion designers may focus on bridal gowns.