A fashion model is a professional who showcases clothing and accessories for designers, brands, and photographers. They play a crucial role in promoting fashion trends, often appearing in advertisements, fashion shows, and photo shoots. But what does it take to become a successful fashion model?
A fashion model uses his appearance and natural chemistry to sell goods or services. He commonly works in promotional production settings, including still photography sessions, video recording studios and venues featuring live fashion shows on runways. Other popular modeling environments include specialty stores, retail stores, commercial showrooms and custom salons.
A model's marketability in the fashion world depends upon the image that is desired by his employer or dictated by the product or service he is promoting. While an image of athletic virility may be required to advertise youth-oriented goods, a more mature image may be preferred to promote services and products normally purchased by older consumers. A model who can convincingly portray a wide range of ages, styles and personalities can significantly improve his marketability.
The road to becoming a super model, a term commonly used to describe a fashion model who has gained international fame, is normally one full of challenges. Modeling is a highly competitive industry full of attractive hopefuls of which only one or two will ever achieve stardom. Besides being charismatic and photogenic, someone in this position is ordinarily required to have strong work ethic and a positive attitude.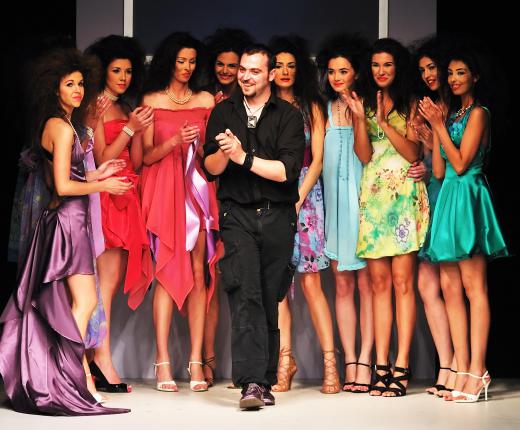 A person aspiring to success in this field normally begins with a solid plan for self-promotion. Educating himself on the latest trends and styles in clothing and accessories is important as his public image is generally expected to reflect the latest fashion. He is commonly expected to follow a strict diet and exercise plan to keep his body in a highly-marketable condition. The ability to apply makeup to achieve specific effects and having a versatile hairstyle are helpful tools for a person in this position as well. A portfolio of photographs depicting many moods and dispositions is typically considered an essential tool for an aspiring model.
Landing a posh job as a runway model or being hired for a multi-page layout in a high fashion magazine are generally considered landmark events for a fashion model. These career plateaus indicate a level of success enjoyed by a select few. Many models with lucrative careers started out in much less glamorous positions, such as spraying perfume on department store customers, modeling for college art and photography classes and working as sample models for garment makers.
A career as a model may involve working as an independent contractor or require a contractual agreement with a public relations company, advertising firm or modeling agency. It is common for a fashion model to simultaneously work in several mediums while building his resume and portfolio. Pay varies depending on the length and demands of the job. Some assignments involve travel, which is customarily paid for by the employer.
No formal education is normally required to model. Taking classes in fashion design, dance, art or drama may give an aspiring model a more competitive edge, however. Some modeling agencies may also offer training in runway modeling procedures as well as hair and makeup techniques.
AS FEATURED ON:
AS FEATURED ON:
By: konradbak

High couture modeling is focused on high fashion.

By: .shock

Modeling environments commonly include live fashion shows.

By: Diorgi

Fashion models are people who use their good looks to sell products or services.

By: Wrangler

Fashion models may be used to help sell items such as clothes or accessories.

By: Nejron Photo

Male fashion models are often used to advertise suits and other forms of business attire.

By: Peter Atkins

Some fashion models get their start as sample models for garment makers.

By: WavebreakmediaMicro

An aspiring model should try to create a portfolio showing many moods and dispositions.