How Do I Become a Head Teller?
A head teller is a supervisory role at a bank; this individual supervises all the other tellers, as well as provides customer service and will also provide general banking services to customers if needed. It is not an entry level position. In order to become a head teller, an individual will need to have experience working as a teller in a bank. Alternatively, some banks will hire individuals to become a head teller if they have experience in a supervisory role in a retail setting, such as in a grocery store, but this is not common.
In order to become a head teller, it will most likely be necessary to start as an entry level bank teller, and then move up in that role. It is very important to do well when working as a bank teller and to make sure your funds are always balanced at the end of the day, and that you provide excellent customer service. Anyone who wants to be promoted should always try to go above and beyond the call of duty in the job, which will help to illustrate potential for supervisory or managerial responsibility. It is also important that an individual who wants to become a head teller demonstrates his or her ability to work well with all different types of people, and remain calm in stressful situations.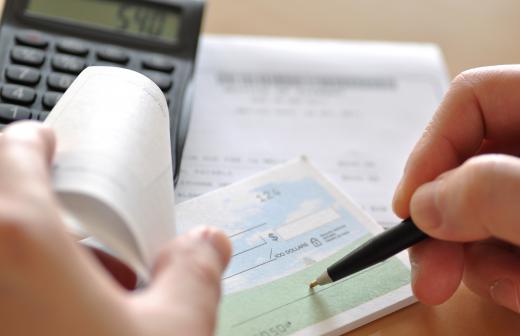 An interview process will also usually be necessary in order to become a head teller. Managers at the bank will generally want to meet with the individual again, even if they have been working there for a while, simply to discuss the job and ask a few questions. These might include questions about how the individual would handle certain situations. A person who is interviewing for a new position in the bank, such as an individual who has had experience as a bank teller or a head teller elsewhere, will likely have a lengthier interview process.
As with any job interview, it is important to dress professionally and bring a copy of your resume for review. It is also a good idea to be prepared with a few questions to show your interest in the job and knowledge of the field; be prepared to discuss various instances where you handled challenging situations with banking customers or other employees. Some banks might want you to take a brief test as well to check your skills with performing basic math.
AS FEATURED ON:
AS FEATURED ON:
By: JJ'Studio

Head tellers may train new hires how to deposit cash and checks.

By: tashka2000

A head teller may be tasked with ensuring all employees' funds are balanced at the end of the shift.

By: zest_marina

Honesty and attention to detail are considered important qualities for bank tellers to posses.

By: Rido

An interview will be part of the process of becoming a head teller.