How do I Become a Histopathology Technician?
For those who love science and want to make a positive impact on patient well-being, medical careers in histopathology can be rewarding. The job outlook for histopathology technicians are projected to be strong, especially since the availability of jobs exceeds the number of certificated technicians in the field. To become a histopathology technician requires completing a one- to two-year accredited program, along with an additional year interning in a medical laboratory. Because these positions require a high degree of day-to-day manual dexterity, prospective job candidates should also enjoy physical work and demonstrate a meticulous attention to detail.
Histopathology is the microscopic examination of diseased body tissues obtained through biopsy or surgical excision by a pathologist, who provides the diagnosis for the presence or absence of disease. Before a specimen arrives at the pathologist's bench, however, it must be prepared by a histopathology technician. The histopathology technician obtains the surgically removed samples and prepares specimens by cutting and mounting the tissues on slides, using a variety of histological techniques.
In order to become a histopathology technician, one needs to possess certain character traits. A prospective technician must be painstakingly attentive to details, love working with visual stimuli, and maintain a high degree of manual dexterity since day-to-day tasks will require considerable hands-on work. In addition to the physical demands of the job, one must be willing to work as a team player and multitask effectively. Handling a patient's personal medical information and the sensitivity involved in maintaining accurate records demands a high level of responsibility and professionalism.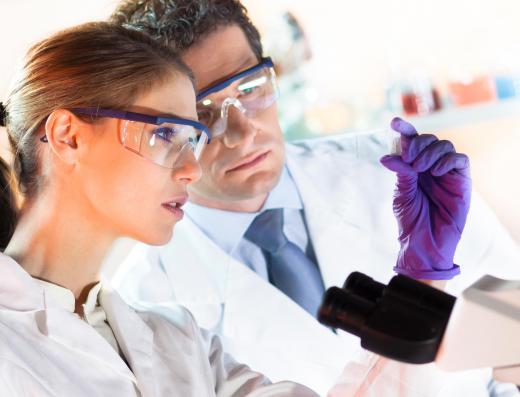 The educational background necessary to become a histopathology technician includes the completion of an accredited program offered through a community college or university. The National Society for Histotechnology maintains an up-to-date list of accredited programs in the United States. Most community college A.A. or A.S. degree programs take a 24-month period to complete, while university-offered certificate programs may take less time to complete. Students may decide to continue their training by completing a baccalaureate degree program.
Typical coursework to become a histopathology technician includes classes in the basic sciences, including anatomy, physiology, microbiology and chemistry. This is followed by classroom instruction in histological theory and techniques. It is here that students learn how to gross, fix, process, embed, cut and stain tissues, as well as troubleshoot technical issues that may arise in the laboratory.
Finally, all prospective candidates must complete a clinical rotation while in school and serve as an intern in a histology laboratory. Rotation experiences can provide initial training in cytology, frozen sectioning, human leukocyte antigen tissue typing, cancer tissue recognition, and routine histology training. Once all coursework and rotations have been completed, graduates are encouraged to obtain national certification through the American Society for Clinical Pathology (ASCP), which is recommended for advancement, but not required for entry-level employment for these science jobs.
AS FEATURED ON:
AS FEATURED ON:
By: WavebreakmediaMicro

Histopathology is the microscopic examination of diseased body tissues.

By: kasto

Histopathology technicians must know how to recognize a number of diseases and conditions.

The science of microscopic anatomy was discovered by Italian biologist Marcello Malpighi.

By: spflaum

Courses in chemistry and microbiology can help prepare an individual.