How do I Become a Hospital Safety Officer?
In many healthcare settings, providing a secure and safe environment where patients can receive care is of utmost concern. That is one reason there is a demand for skilled hospital safety officers to maintain and patrol medical facilities and keep things safe at all times. If you are interested in a career in law enforcement or engineering and enjoy working in and around hospitals, there are many opportunities to become a hospital safety officer.
The first step in the process to become a hospital safety officer is obtaining the proper education to work in the demanding field of hospital security and building safety. It is advisable to pursue a four-year college degree in criminal justice, engineering, or hospital administration in order to become qualified to work as a hospital safety officer. Working in a health care setting requires the experience of knowing how to develop and implement facility-wide safety management procedures.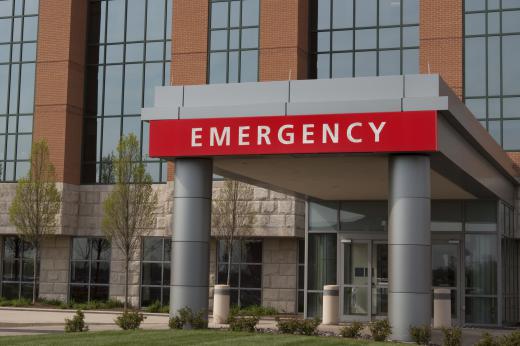 As a hospital safety officer, it is also very helpful to have a background in working in the healthcare setting — is a unique environment that has its own individual challenges. Health care is a demanding field which requires being able to have a high level of patience when dealing with the public. Patients and their families often behave in ways that they would not in other public settings due to illnesses and other stressors. Having a compassionate personality and an attitude of wanting to understand others, helps in this role.
Another aspect of wanting to become a hospital safety officer is that it demands a great deal of personal responsibility to maintain a safe environment for hundreds of other people. This means being able to adapt to a wide variety of ever-changing circumstances and having a solid background in law enforcement techniques and hospital grounds management. It is advisable that you have at least five to ten years of experience managing a community or working alongside other hospital safety personnel before deciding to become a hospital safety officer.
It is highly probable that as you become a hospital safety officer you will be faced with unforeseen conditions that can pose a crisis or risk to patients or the hospital building itself. It's vital that you have a strong problem-solving ability; leadership skills and a level head to do this kind of work on a daily basis. A hospital safety officer is the person who is looked to for authoritative support should a crisis arise and the need to spring into action quickly to solve a matter will be left up to you in many cases. Be prepared by learning how to manage stress and take charge whenever needed.
AS FEATURED ON:
AS FEATURED ON:
By: Tim Glass

Hospital safety officers might work in an emergency room to provide security for patients who have been attacked.

By: sudok1

Hospital safety officers should be trained to handle various scenarios, including domestic abuse and gun violence.

By: mario beauregard

Hospital safety officers work with all the staff at a facility.

By: jurra8

A hospital security officer may or may not receive training on how to handle handguns.

By: chatsimo

A hospital safety officer may or may not be authorized to make arrests.