How do I Become a School Safety Officer?
Pursuing a career as a School Safety Officer involves acquiring a high school diploma, followed by specialized training in security and safety protocols. Additionally, experience in law enforcement or security can be beneficial. Lastly, excellent communication skills are crucial for this role.
Your quest to become a school safety officer can be relatively easy or rigorous, depending on the size of the school and scope of the job. Qualities that could help you become a school safety officer include the appropriate education, the maturity and responsibility necessary to hold a position of authority and a good knowledge of school rules and any applicable laws. The role of a school safety officer can range from monitoring students and visitors to carrying a weapon and having limited authority to make arrests. Generally, safety officers in large, urban schools — particularly those in areas with high crime rates — have the most authority. In many cases, though, they are civilian positions similar to peace officers.
School safety officers are called upon to avert crimes such as kidnapping, assault and theft. A safety officer's presence alone can be a deterrent to crime. If you become a school safety officer, you also might serve as the first line of defense against major events such as school shootings or other severe violence. When serious offenses occur, school safety officers often notify other law enforcement officials and provide information for criminal investigations.
Another role of school safety officers is to enforce various school rules such as parking and traffic flow. Overseeing student tardiness or truancy also is a common role. In some locales, it is unlawful for students to be absent from classes without an excuse. As a school safety officer, you might be responsible for notifying parents, making home visits or appearing in court when laws or ordinances are violated.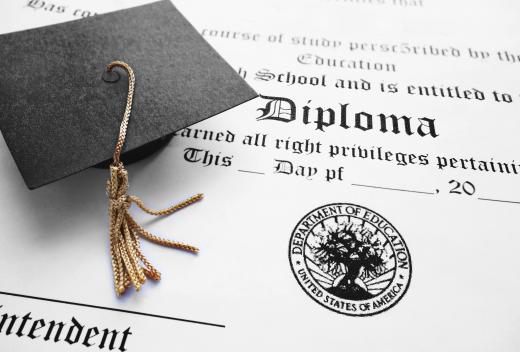 To become a school safety officer, you will need at least a high school diploma or proof of graduation from an equivalent program. An associate's degree in police work or a related field often is desirable. You also might be required to attend a pre-employment academy or training program and pass a qualifying exam.
Overall, to become a school safety officer, you should have a good understanding of all applicable laws, procedures and school rules. Training usually is required in first aid and basic life-saving techniques. Finally, you probably will need a valid driver's license and a clean criminal record.
The responsibility of being a school safety officer should not be underestimated. Parents expect that their children are attending a school with an environment that is orderly, fair and safe. You will work closely with parents and students, so a love of children and good communication skills are essential. Be aware, however, that you also will face situations where you must make difficult decisions to protect the overall well-being of the school or other students.
Consider your natural investigative skills before deciding to become a school safety officer. Your duties likely will involve investigating and interviewing students, parents, teachers and administrators. You need to be able to unearth facts and sort through conflicting statements and agendas to get to the truth and enforce the rules.
Virtually any educational system, including public schools and colleges, are potential employers. Look through the Web sites of educational institutions to see if they employ security officers and whether they are hiring. It also is helpful to contact the place where you want to work and ask for a listing of their specific requirements for becoming a school safety officer.
AS FEATURED ON:
AS FEATURED ON:
By: roza

A school safety officer helps to avert crimes in an educational environment.

By: zimmytws

The minimum perquisite to become a school safety officer is to have a high school diploma or equivalent.

By: ivanfff

Some school safety officers may have limited authority to make arrests.