How Do I Become a Hotelier?
The process to become a hotelier can differ depending on if you want to own or manage a hotel, since the term can refer to either of these. If you want to manage hotels, you may want to obtain a vocational certificate or a four year hospitality degree. Working in the hospitality industry in various lower positions can also provide you with much needed experience when seeking a hotelier position. Becoming a hotel owner is a simpler process, though it requires a very large initial investment and a great deal of operating capital as well. If hotel ownership is your goal, becoming a hotel manager first to learn the business is also a viable option.
To become a hotelier, you must first decide if you want to own hotels or just manage them. It is also possible to start off managing hotels and then purchase or start your own later on. If you want to be a hotel manager, you will typically want to attend school and obtain a hospitality degree or certificate. Many community colleges, vocational schools, and universities offer certificates and degrees in hospitality and hotel management, though a business degree can also be useful. Formal education is not always absolutely necessary to become a hotelier, but it is a good credential to have on your resume when you start looking for work.
There are a number of different ways to become a hotel manager. Many hotel managers come from lower managerial positions within the hotel business, though it is also possible to come from a successful career in another industry. You may work your way up from the bottom or find a job as a lower level manager after you graduate from college or vocational school. Food and beverage managers, front desk managers, and other similar positions can be good jobs to hold if you intend to eventually become a hotelier.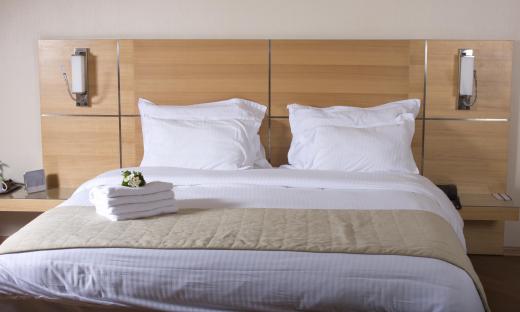 If you are interested in becoming a hotel owner, you can go about the process in a few different ways. One option is to be a manager first, which can provide you with an intimate understanding of the business. You can also buy directly into a franchise or start your own beach front hotel, though in that case you will need a management company to handle the day to day operations.
Whether you decide to manage hotels first or buy into a franchise, you will need a great deal of capital at your disposal. Raising initial capital can be very similar to starting any other business, and you should have a detailed business plan to show any potential investors. If you have extensive knowledge of the business already from being a successful manager, you can use that to show potential investors that you possess the necessary experience to guide the venture to profitability.
AS FEATURED ON:
AS FEATURED ON:
By: David Gilder

Hotel management MBAs have usually had prior experience working in the hotel industry.

By: mertcan

Some hotel owners started out as general managers or supervisors before moving up the hotel's chain of command.

By: pio3

Hoteliers may have experience working in a range of positions at a hotel, including overseeing the housekeeping staff.