How do I Become a Hotel Owner?
In order to become a hotel owner, an individual must usually have money to fund his venture or good enough credit to allow him to borrow start-up funds. To succeed as a hotel owner, an individual typically needs a good location, business sense, and enough guests to make the business profitable. An individual who wants to become a hotel owner does not need a college degree, but earning a degree in either hotel or business management may help to improve his chances of success.
Entering the hotel business as a hotel owner generally requires a great deal of money. An individual may choose to purchase a used hotel or have a brand-new property built to his specifications. Either way, becoming a hotel owner typically requires a large investment. Money is required not only for purchasing or building a property, but also for running the hotel until it starts to earn a profit. Expenses can include utilities, food, furnishings, payroll, licensing fees, and tax payments.
Often, an individual who wants to become a hotel owner will seek loan money to help him get started. He'll usually need good credit and a well-thought-out business plan in order to get loan money. If an individual has bad credit, he may take on a partner with good credit or seek the help of a co-signer. Some aspiring hotel owners seek investment funds instead of or in addition to loan money. Others may liquidate bank accounts or stocks and bonds in order to help fund this business venture.
Good business sense is key to a hotel owner's success. In preparation for owning a hotel, an individual may earn a business or hotel management degree. It may also prove beneficial to work in a hotel for a couple of years before purchasing one. This work experience may give a prospective hotel owner valuable insight into the inner workings of a hotel. It may also help him learn what it takes to market a hotel business, attract guests, and entice guests to return for repeat stays.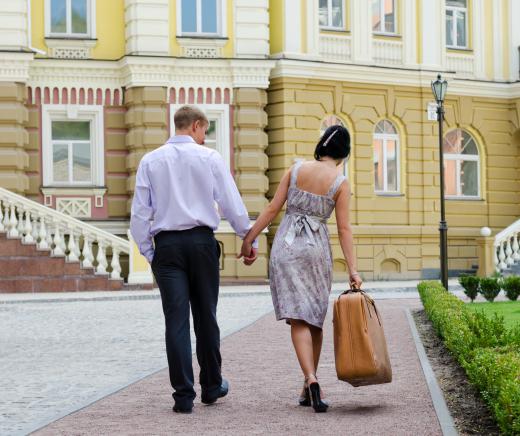 Once an individual is ready to become a hotel owner, he'll have to choose whether to buy a franchise or start his own hotel brand. A franchise hotel has name recognition, which means guests may be willing to stay there simply because the hotel has a well-known name. With his own brand, however, a hotel owner can be creative and develop a hotel environment that is entirely unique. Whether he selects a franchise or develops his own brand, a prospective hotel owner should also consider location. Choosing an in-demand location can dramatically improve his chances of success.
AS FEATURED ON:
AS FEATURED ON:
By: David Gilder

A prospective hotel owner should become familiar with how the industry operates before they make an investment.

By: Michael Flippo

Hotels are more expensive and luxurious than hostels, and guests have their own bedroom and bathroom.

By: Daddy Cool

In Europe, some people have opened hotels on their family estates, some of which are very grand.

By: Arkady Chubykin

Hotel owners may run a franchise location for a chain.