How do I Become a Lab Supervisor?
Lab supervisors oversee laboratory work and manage lab technicians. To become a lab supervisor, one generally must have experience working in a laboratory environment as well as the appropriate education and leadership training. Usually, one has to work their way up to lab supervisor from a lab tech position after demonstrating the appropriate skills and abilities.
Experience in a lab usually is required to become a lab supervisor. The type of laboratory environment in which an individual is planning to work determines the level of experience necessary to become a lab supervisor. Some lab supervisors are only required to have as little as a year of experience, while others may be required to have five or more years of experience under their lab coat. Those who work in high-tech research or medical labs are required to have greater than five years experience.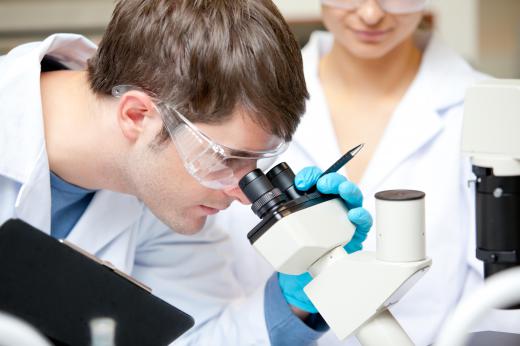 Education is also an important qualification to becoming a lab supervisor. In almost every type of lab supervisor position, one is required to possess at least a bachelor's or master's degree in a related field. In some cases, a degree in a related area, such as business administration, coupled with experience is sufficient. Typically, a doctoral degree is only needed in the most demanding and complex laboratory supervisor positions.
Training also can be necessary to become a lab supervisor. Training is provided by most facilities offering lab supervisor positions in order to enhance the supervisory skills of a potential candidate. For instance, training classes teach lab supervisors how to effectively manage employees and delegate job responsibility. This type of training also teaches lab supervisors how to coach their employees and conduct fair employee evaluations.
Supervisory skills training allows a lab supervisor to learn the importance of building a strong, independent team. It also allows the employees time to establish a working relationship with one another. This can be crucial in order to become a lab supervisor since laboratory employees are required to work side-by-side in order to conduct research, perform experiments, record results, and collect data.
AS FEATURED ON:
AS FEATURED ON:
By: WavebreakMediaMicro

Lab supervisors must have lab experience.

By: Vasiliy Koval

Lab supervisors who work in medical labs are required to have more than five years experience.

By: nandyphotos

Lab supervisors will oversee work that's performed in a laboratory.