What does a Laboratory Aide do?
A laboratory aide usually works in a hospital environment or similar type of clinical setting. The individual is generally in charge of assisting lab technicians or other medical personnel with day-to-day functions of the testing site. Job responsibilities typically include cleaning and sanitizing workspaces, sterilizing equipment, specimen preparation, recording test results, data entry, and placing supply orders. Laboratory aide jobs are usually entry-level positions, but a higher level of education, such as an associate's degree or other form of specialized training, is sometimes a pre-requisite for applicants who are interested in this area of healthcare.
When blood, urine, or other samples are collected by hospital staff, doctor's offices, or technicians, and sent to a laboratory, they are labeled with a patient's name or identification number. It is very important for the test results to be properly analyzed and recorded. Usually, the outcome of a lab report helps determine a course of treatment for a patient, or assists with a doctor's diagnosis. For this reason, a laboratory aide must be extremely conscientious and detail-oriented. Serious health consequences for a patient can occur if test samples are confused with another person's, or if they are inaccurately recorded.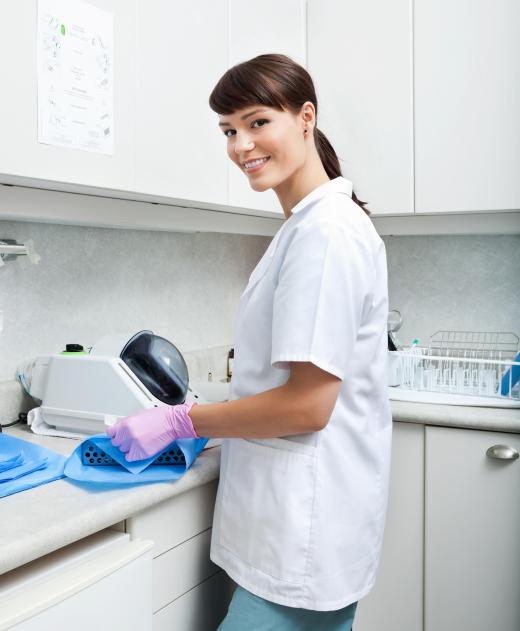 Proper sterilization techniques are also crucial in any laboratory environment. The assistant is typically required to meticulously comply with cleaning procedures and obey safety regulations to avoid specimen contamination. The rules are also in place to ensure the safety of the patients, laboratory aide, technicians, and other personnel.
Many times, a laboratory aide performs administrative tasks as well as clinical duties. Filing and data entry, for example, may be incorporated into daily responsibilities. The assistant may order supplies, inventory lab materials, and keep items well stocked for the technicians.
Individuals who begin a career in healthcare as a laboratory aide often find a terrific opportunity for advancement in the field of medicine. Many people continue their educations to become laboratory technicians, medical research analysts, nurses, doctors, or explore other areas of interest. It is also a great introductory career into the healthcare field for people who are unsure about future goals and aspirations.
Sometimes, laboratory aides work outside the medical environment. They may find employment at colleges or universities equipped with scientific laboratories. The job responsibilities are similar to those in a healthcare setting. The major difference is that they are more likely to work with chemicals and compounds, as opposed to blood or other human cultures. Sterilization, safety procedures, and proper handling of the equipment, however, is still extremely important in any laboratory setting.
AS FEATURED ON:
AS FEATURED ON:
By: Tyler Olson

Laboratory aides are responsible for cleaning and sanitizing workspaces and equipment in a clinical lab setting.

By: angellodeco

If blood or urine is collected and sent to the lab, a laboratory aide must be very detail-oriented when marking and handling each sample.

By: .shock

Laboratory aides may be asked to help with ordering and stocking supplies.

By: nito

Laboratory aides may help with filing and data entry tasks.

By: nandyphotos

A laboratory aide may eventually choose to become a laboratory technician or medical research analyst.

By: auremar

Many people who begin their careers as laboratory aides, continue their education in order to gain promotions.

By: kasto

Laboratory aides must understand and abide by the same safety procedures as lab technicians.

By: Monkey Business

Laboratory aides may be tasked with recording results of experiments.