How Do I Become a Mechatronics Engineer?
A mechatronics engineer works on the design, planning, and development of products using a combination of engineering, math, and science. To perform his job, a person in this field may use electrical, computer, and mechanical engineering as well as software design. If you want to become a mechatronics engineer, you'll likely need to earn an undergraduate degree in mechatronics engineering. If the college of your choice doesn't offer this degree, you may earn another type of engineering degree with a concentration in mechatronics instead. While one of these educational paths may provide the best chance of landing a job in this field, some employers may be willing to hire you if you earn an engineering degree in a related field, such as electrical or mechanical engineering.
To become a mechatronics engineer, you'll usually need to earn a high school diploma or general educational development (GED) credential. High school classes in advanced math and science subjects may prove particularly important if you plan to pursue this career. If you have the opportunity to take classes or participate in activities that provide hands-on experience with mechanical, electrical, or computer science concepts, you may prepare yourself for college by taking advantage of them as well.
Many employers prefer to hire mechatronics engineers who've earned bachelor's degrees in mechatronics engineering or a closely related field. The courses you will have to take in college may vary, depending on the program you choose. You will likely have to take a core of basic courses in such subjects as science, composition, and math. Other courses may cover such topics as the fundamentals of mechatronics engineering, fluid mechanics, and mechatronics system design.
Once you've earned an undergraduate degree, you may decide to apply to become a mechatronics engineer right way. While you may find attractive job openings that you can fill with a four-year degree, you may also consider going on to earn a master's degree. Though this advanced degree isn't usually required as a condition of employment, earning it may increase your likelihood of landing the job you want, earning more money, and advancing in your field.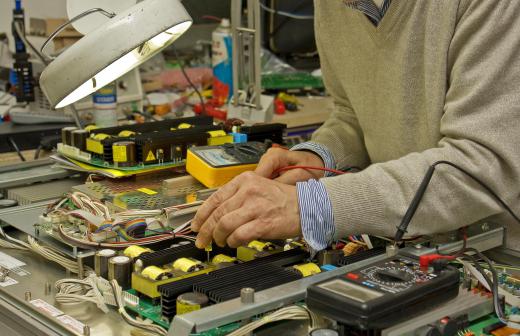 When you've completed your education and decided that you are ready to become a mechatronics engineer, you may find there are many industries in which your skills are needed. You commonly can find job opportunities in the transport, fuel, defense, and manufacturing industries, for example. Companies in the aeronautics and mining industries, as well as many others, may have need for your skills as well.
AS FEATURED ON:
AS FEATURED ON:
By: chalabala

Mechatronics engineers integrate the sensor systems used in robots.

By: gmg9130

A mechatronics engineer may be responsible for setting up assembly lines.

By: Sergio Di Giovanni

Mechatronics engineers may need hands-on experience in both mechanical and electrical engineering tasks.

By: Kadmy

A mechatronics engineer may need to test and calibrate components used in his design.

By: auremar

Obtaining a bachelor's degree in mechatronics may help an individual secure a job in the industry.

By: Lisa F. Young

Most electrical engineering programs require hands-on experience either in a classroom or through an internship.