How do I Become a Newspaper Columnist?
If you want to become a newspaper columnist, you should first develop one or two specialty writing areas. Even a great deal of writing experience isn't likely to help you get hired as a newspaper columnist unless you've written extensively in one or two areas. A degree in journalism, communications or English is likely to be needed if you want to become a newspaper columnist of any type, unless you are strictly going to head your own publication.
You won't need a degree if you start your own Internet newspaper. However, while starting your own newspaper is a good idea if you have the skills and time to create a quality publication, if you hope to eventually be hired as a full-time columnist by someone else, you are still likely to need a degree. If you want to become a newspaper columnist and don't already have a journalism, communications or English degree, earning one on the Internet while starting your own online newspaper may work out well. If you choose an online educational program, make sure it's properly accredited and accepted by newspaper employers. Most employers in all industries can appreciate a good online education and it can be a convenient way for people to hold down a job or other pursuit while earning their degree.
Whether or not you decide to start your own online newspaper, research the Internet for other quality publications and approach them about writing a piece or two as a guest writer. Make sure you have your name, or byline, on the piece so that you'll be able to link to it to have a quality clip for potential employers. Typically, online guest writing spots don't pay much if anything, so you should only do this if the publication will impress potential employers favorably and give you a place to showcase your skills. Whether your specialty area is politics or gardening, if you hope to become a newspaper columnist, you'll need reputable published clips, or writing samples.
Study the newspapers you hope to write for now or in the future. This includes reading the ads and editorials to get a good sense of who the target audience is for each particular paper. While your writing must effectively interest the target audience and fit in with the newspaper's overall style, the column you propose to add to the publication should reflect your personality. In other words, you want to bring something different to the newspaper than is already there, while at the same time be able to hold the attention and satisfaction of current readers. Finding the right balance isn't easy if you want to become a newspaper columnist, but it's essential and can be accomplished through the careful study of publications that interest you.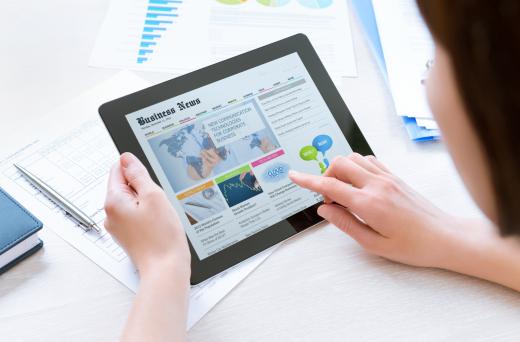 When you're ready to apply for a newspaper columnist job, be ready to pitch ideas for your columns. Have several name ideas prepared for your column as well as questions for the editor who interviews you. Newspaper columnists aren't only expected to be educated and experienced in their subject, but also to be idea people who meet editorial guidelines. If you have a daily or weekly newspaper column, you'll need constant fresh takes on your topic; the hiring editor will need to see evidence of that quality in you during the interview process. You'll have to ultimately convince the editor why you're the best person for the job if you hope to become a newspaper columnist.
AS FEATURED ON:
AS FEATURED ON:
By: spinetta

Specializing in certain topics can help land a writer a position as a columnist.

By: gena96

Many newspapers hire freelance writers, or stringers, to fill column space.

By: bloomua

An aspiring columnist might create her own online newspaper.

By: Frank Boston

Some modern newspapers start online.

By: gstockstudio

A degree in journalism is generally required to become a newspaper columnist.