How Do I Become a Plumbing Estimator?
Cost estimators are individuals who work for manufacturing companies, construction companies, and other similar industries that provide a combination of service and material. In the plumbing and other construction trades, cost estimators are sometimes referred to as project executives, chief estimators, or simply project managers. To become a plumbing estimator, a minimum of a technical degree is usually required, but some companies may prefer varied combinations of experience and education.
There is more than one route that can be taken to become a plumbing estimator. An individual with several years experience in the plumbing trade at a journeyman or master plumber level may be able to pursue the estimating side of the trade with just a few professional development classes in cost estimating and project management. Conversely, an individual with little to no experience in the field is likely to need a degree in construction science, construction management or civil engineering. A typical bachelor's degree program in these fields will include courses on cost estimating and project management.
Some companies that specialize in plumbing, heating, air-conditioning and ventilation may prefer to hire estimators with four-year degrees in a related field, but there are many plumbing companies that may allow for and train an experienced employee to become a plumbing estimator. The nature of the service the company provides will likely dictate the requirements for experience and education. Commercial companies provide a different scope and scale of service than residential companies. While many residential plumbing companies may allow their master plumbers to provide cost estimates to customers, commercial companies typically have management staff that deal with estimates and bids.
A technical degree can also provide a path to become a plumbing estimator, especially for individuals who have field experience. Related fields such as HVAC and pipe fitting are solid springboards to a career as a plumbing estimator because plumbers work with both water and gas pipes. A career in plumbing estimating may be an option for individuals interested in working in commercial and residential construction as well as those with experience in the industry looking for a mid-career change or advancement.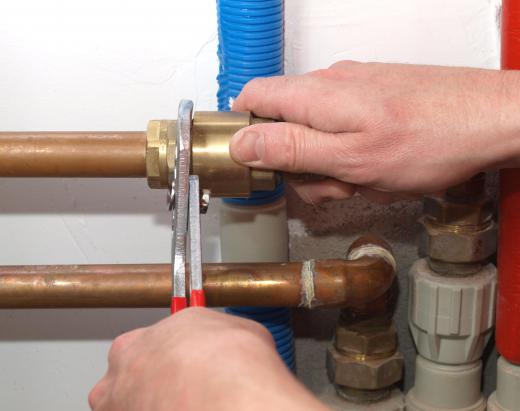 There are numerous universities and community colleges that offer programs in construction management, construction science and civil engineering. There are also apprenticeship programs available through trade unions and technical colleges to help workers gain experience in the plumbing field. It is essential for individuals to obtain experience in cost estimating either through continued education or on-the-job experience to become a plumbing estimator.
AS FEATURED ON:
AS FEATURED ON:
Pipe fittings.

A brass pipe fitting.

By: Photographee.eu

Several years of experience as a plumber can help someone become a plumbing estimator.