How do I Become a Political Columnist?
There are many ways to become a political columnist, which could be a traditional or non-tradition job. Given the proliferation of Internet media sources, a non-traditional path is probably easier, with many sites where people can write political pieces, usually for little to no pay, as often as they want. Those who find their work unaccepted by such sources can have their own political blogs. The person who truly wants a career in this field may need to look at Internet publishing as one way to get started, but they'll usually need more than interest and could require education and entitlement to work in this profession.
Those who would become a political columnist have to understand politics and know how to write. Usually columnists come from a specific political orientation and their pieces are their opinions about what is happening in the political world. For the traditionalist on this path, writing skill also comes from education. A person could study literature, journalism, communications or political science. Most people in this field hold at least a bachelor's degree and some have received additional education or pursued several majors.
With a four-year degree, many people apply for jobs at newspapers, magazines or known online sources to become a political columnist. Alternately, people might take reporter jobs at first, especially those that have a political focus. While initially writers might have to keep their opinions out of their work, this kind of experience is invaluable and lends credibility to expertise in political column writing at a later point. Working in politics for a few years is another way to approach this because expertise in politics might make for excellent column writing.
The less traditional method to become a political columnist involves writing the occasional op-ed for small papers or for many different Internet sites. There usually is no money in this, but the political columnist of this type may simply enjoy crafting articles to a specific audience, and weighing in on the major issues of the day. Choosing sites on which to publish a column might ultimately lead to career work. Some sites do put authors through an approval process and will only accept a certain quality of work, and these sites are so well-known that a person immediately gains more credibility by writing for them. These types of publications, even without pay, could be used to begin a legitimate search for paid work.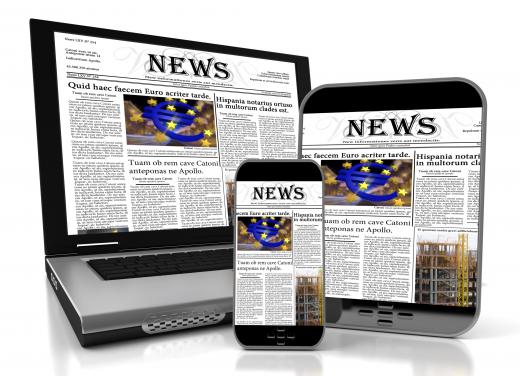 While it can be very easy to become a political columnist that is unpaid and non-traditional, paid work is harder to get, even with training and experience. Many newspapers are slashing their workforce or closing down, and this can make jobs hard to find. The person looking for paid work will need to stand out with provocative writing and demonstrable audience gathering ability. Writing for the Internet may be of use, but education is also need to launch most political writing careers.
AS FEATURED ON:
AS FEATURED ON:
By: Africa Studio

Political columnists may work for magazines.

By: Scanrail

Many large newspapers employ political columnists.

By: Frank Boston

Some critics get their start writing a column for online blogs or news sites, which allow them to build a portfolio.