How do I Become a Textbook Editor?
If you have strong writing, communication, and managerial skills combined with an in-depth knowledge of one or more educational fields, you might want to become a textbook editor. This type of editor oversees the production of learning materials for elementary, secondary, and college-level educational institutions. Generally, the two primary requirements for potential textbook editors are a degree in a related field and practical experience, such as interning or teaching.
A textbook editor might be described as a project manager. Her job is to guide an educational book from its planning stages through to its completion. She works with authors and illustrators to ensure that their work is clearly executed and satisfies both the objectives and the deadlines for each project. In addition, she is aware of how each project fits into the textbook market and may be responsible for composing promotional materials and creating book packaging.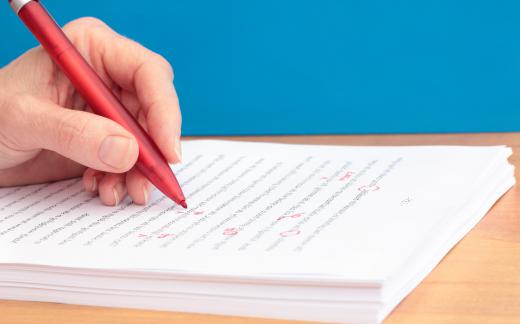 To become a textbook editor, you will likely first need a degree in a relevant field. As editing draws heavily on writing skills, you may find it helpful to major in a literary subject such as English, journalism, or rhetoric. Many textbook editors work within particular disciplines, such as math, science, or history, however, and are required to have an in-depth awareness of that discipline. Thus, you may consider a major in a non-literary discipline with a minor in an area that emphasizes writing. Alternatively, you could earn a bachelor's degree in a literary discipline and a master's degree in the area in which you would like to specialize, or vice-versa.
In most cases, textbook editing is not an entry-level position. Therefore, another significant qualification that can help you become a textbook editor is experience. This experience can take several forms, including internships, working in lower-level publishing positions, or teaching. Often, an attractive editorial candidate will have a combination of these.
Many publishers offer internship programs that train a student or recent graduate to become a textbook editor. As an editorial intern, you will likely aid the editor and her assistants in a range of duties, including research, fact-checking, and copyediting. While these positions are usually unpaid, they can provide you with a thorough understanding of a textbook editor's job. In addition, they can add valuable distinction to your resume.
Even if you have completed a textbook editing internship, you may have to work in lower-level publishing positions before you can graduate to an editorial job. You may first work in an area like research and development or start off as a manuscript reader. If you perform your job well, you may in time be promoted to or hired for an editing job.
Some textbook editors are former teachers. As this type of editor helps produce educational materials, firsthand knowledge of teaching methods and student behavior, as well as detailed knowledge of particular subject areas, can be very useful. If you are a teacher and are considering entering the field of textbook publishing, it is important to note that you will likely still need writing or editing experience. To qualify for the job, you might consider completing an internship at an educational publisher or undertaking a master's degree in a relevant subject.
AS FEATURED ON:
AS FEATURED ON:
By: Pixsooz

Textbook editors may perform a line edit by going through a book line by line, searching for consistency errors.

By: gstockstudio

Obtaining a degree in English or journalism is an important step to becoming a textbook editor.

By: zefart

Textbook editors are the last people to review a book prior to printing.

By: Aikon

Editorial interns aid the editor and her assistants in a range of duties, including research, fact-checking, and copyediting.