How do I Become an Air Force Medic?
To become an Air Force medic, it is necessary to enlist in the Air Force and undergo medical training to qualify as a medic. Other positions in the Air Force are also available to care providers like doctors and nurses, and the requirements for becoming an Air Force doctor or nurse are somewhat different. People who join the Air Force to become medics can pursue a life-long career in the service or may opt to take their skills to the civilian world after they are discharged. Trained medics can find work with hospitals, ambulance services, and law enforcement response teams.
To enlist, people need to be in good physical and mental health. They will have to pass a physical exam and a background check will identify any events in someone's history that could be a barrier to service. Past felony convictions, for example, may bar people from service. An Air Force recruiter can evaluate a person interested in joining and provide advice on meeting recruitment requirements, such as recommendations for physical fitness routines to help people get in shape.
Once recruited, a would-be Air Force medic will go through basic training. If the enlistee is identified as a good candidate for medical training, she will be sent to a training facility that provides paramedic-level training with other Air Force personnel. In addition to learning to provide medical care, enlistees will also learn about working safely under fire and in combat zones. At the conclusion of training, an the medic can be assigned to a unit and may be stationed on a base or sent into combat with other support personnel.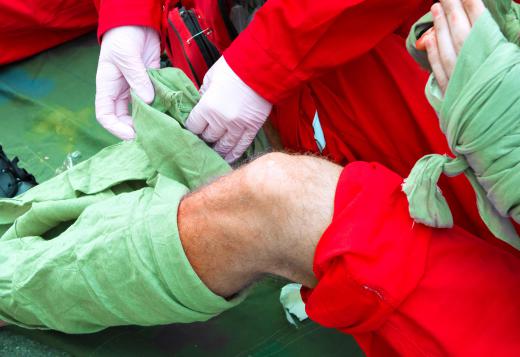 As an Air Force medic, people will have opportunities to travel to many regions of the world, providing health care services to members of the Air Force and their families, along with allied personal and civilians in some settings. Medics are provided with housing and food along with a stipend, and members of the Air Force have access to retirement plans, health care, and other benefits.
The Air Force pays for continuing education and encourages its personnel to pursue new educational opportunities. An Air Force medic has a high level of training that can be a valuable asset when applying for jobs after leaving the Air Force. Tactical support teams that provide assistance to law enforcement value people with prior military experience and skilled medics are always needed on ambulances, in hospitals, and in other clinical settings.
AS FEATURED ON:
AS FEATURED ON:
By: benjaminnolte

Some Air Force medics have previous experience as a paramedic or emergency medical technician (EMT).

By: overcrew

A medic must have basic first aid training.

By: hansenn

An Air Force medic will provide health care services to members of the Air Force and their families.

By: Dmitry Lobanov

An aspiring Air Force medic will be required to pass a physical exam.

By: CandyBox Images

Air Force medics may work with ambulance services after leaving the military.

By: Tyler Olson

An Air Force medic may receive training on how to check for a patient's pulse.