How do I Become an Airline Steward?
An airline steward, also known as a flight attendant, is responsible not only for attending to the passengers on the flight, but also checking that proper security and emergency procedures are followed. The airline steward's main goal is security and ensuring that proper emergency procedures are followed if something goes wrong during the flight. The airline steward helps passengers if they require first aid during the flight.
To become an airline steward, at least a high school diploma is required. Most airlines prefer candidates with a two-year degree or some college experience and those who have past work experience dealing with people. The airline steward must be polite at all times, yet still stay in control of the situation and enforce airline rules.
Anyone wishing to become an airline steward should enjoy working with people, be in excellent health, and be able to stand on her feet for long periods of time. For international flights, it's important to know at least one foreign language. To become an airline steward, height, weight, and appearance requirements must also be met. A person needs to be a certain height so she can easily reach emergency equipment stored overhead. The person should not have tattoos, piercings other than the ears, or unusual haircuts.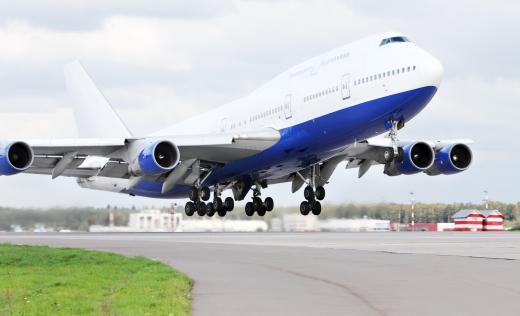 The job experience involves remembering important information and procedures. A person who wants to become an airline steward must think quickly in a stressful situation. Before the passengers board the plane, the airline steward listens to a briefing from the captain about the flight, weather conditions, and any unusual circumstances. Next, the airline steward helps passengers board the plane and checks their tickets. Once the passengers have boarded, the airline steward tells them about emergency procedures and ensures that all seat belts are fastened.
During the flight, the airline steward takes care of the passengers by providing food and drinks. She also calms worried passengers and takes care of those with special needs. In the event of an emergency or an illness, the airline steward must react quickly to solve the problem. Those who want to become an airline steward should consider whether they would enjoy performing these tasks or not.
Those wishing to work as an airline steward must also meet special qualifications before they can start training. The person must be at least 18 or 21 years old, sometimes older depending on the airline. She must be a United States (U.S.) citizen or a legal alien with permission to work in the U.S, if applying at an American airline. An extensive background check is performed to confirm all information the person has given on her application is true.
Once a person has applied to be an airline steward and is selected for training, she receives three to six weeks of formal lessons from the airline. She'll learn about safety procedures, proper appearance, and rules of the airline. After training, the person tries a series of practice flights. She is monitored and passes or fails based on these and other tests. Once she passes training, she is examined and, if approved, is certified by the Federal Aviation Administration (FAA) to work as an airline steward.
Not all certified airline stewards get jobs right away. The person is placed on a reserve list until a full-time position opens up. In some areas this can take years. While in reserve, the person is often called in at the last minute to work a flight and must have a flexible schedule. She is often asked to relocate at the beginning of her job to the area where she'll work from the most.
Common problems faced by airline stewards include on-the-job injuries from falling overhead items or from pushing the heavy carts. The work environment may also cause illness over time. Airline stewards have unusual sleeping and eating patterns, another factor that may make an airline steward sick.
AS FEATURED ON:
AS FEATURED ON:
By: Pavel Losevsky

An airline steward provides food and drink to passengers.

By: Pavel Losevsky

The guidelines for flight stewards, who are usually called flight attendants, vary among airlines.

By: arquiplay77

Because they are working with many people in a confined space, flight attendants must be able to act quickly and stay calm under pressure.

By: Concept web Studio

Anyone wishing to become an airline steward should not have piercings, other than the ears.