What is a Kitchen Steward?
A kitchen steward, also sometimes called a "kitchen porter," is a person who works in a commercial or industrial kitchen as a sort of support person. He or she is not usually involved in the actual preparation of food, but keeps things clean and organized so that chefs and food prep assistants can do their jobs efficiently. The steward is often considered one of the lowest ranking members of the staff, but the job is nonetheless very important. Without someone on hand to keep things running smoothly, chefs and others could easily fall behind.
Scope of the Work
Kitchen stewards can be found practically anywhere that food is prepared on a large scale. Restaurants are the most common example, but many also work in hotels, in hospital kitchens, and in school cafeterias. Cruise ship and airplane kitchens may also employ this sort of help.
Cleaning and Maintenance
Keeping things clean is usually the biggest part of a kitchen steward's job. At the most basic level, this involves washing dishes and scouring pans, though it usually also includes cleaning up workspaces and mopping floors as required. He or she will usually work with chefs and other kitchen staff to make sure that all of the tools and utensils needed for a specific meal or cooking task are washed and ready to go.
Before preparations for each meal begin, the kitchen steward frequently inspects the prep stations, stoves, and appliances like refrigerators and freezers. He or she will make sure that all the necessary equipment is properly stored and readily available for the kitchen crew. If any of the stations require additional cutlery or tools, the steward is normally expected to have these clean and ready for use.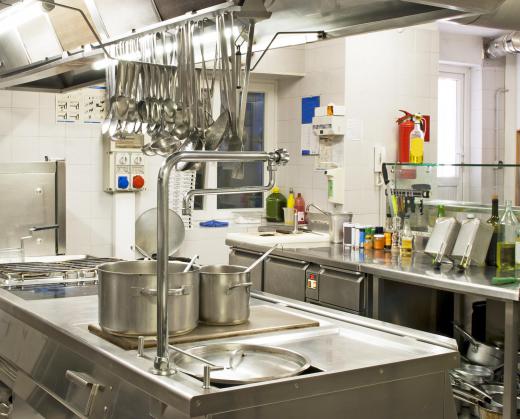 At the end of the day, the steward will typically help get everything put back away and tidied up. This often involves sanitizing workspaces, scrubbing floors, and sealing up unused ingredients. In many respects, he or she is in charge of "closing" the kitchen and making sure that everything is in order for either the next day or the next crew. This often means that the steward is one of the very last to leave.
Storing and Organizing
If the eating establishment has storage areas separate from the kitchen, the steward is generally in charge of their maintenance as well. This often includes walk-in freezers and refrigerators, pantries, and stock rooms. In addition to daily maintenance, the steward is often required to schedule and perform in-depth cleaning of these areas on a weekly or monthly basis. He or she may also be tasked with taking inventory and alerting managers when certain supplies are running low.
Additional Tasks
In small food service environments, the steward may be required to help operations outside of the kitchen as well. He or she may be asked to bus tables, for instance, or refill water glasses for patrons. Sweeping the dining room floor or doing minor tidying tasks during less busy times might also come within a steward's job description, and in some places he or she might actually help serve customers when needed. This sort of direct contact is usually limited to special circumstances, like if a member of the regular wait staff is out sick or the restaurant is much busier than usual.
Shifts and Basic Expectations
Stewards, like most kitchen staff, work in what is known as "shifts." Shifts are typically quite long, usually beginning a few hours before a meal prep and ending several hours afterward. They are not always regular, either — some days, a shift might be from 2 p.m. to 12 a.m., while on others it could be 5 a.m. to noon. A lot depends on the needs of the restaurant or kitchen owners, as well as the size of the steward pool. Someone who is the only kitchen steward will usually work much more regular hours than one who is on a team of many.
Though the work is not usually very difficult, it can be physically demanding. Success on the job often requires a lot of strength as well as the ability to stand for long periods of time. In most cases, the work is fast-paced and labor intensive. Stewards must have good communication skills so that they can interact with and take instructions from chefs and others.
Educational Requirements
There are generally no educational requirements to become a kitchen steward, though many employers want workers to have at least a high school diploma or its equivalent. Background in a food service preparation environment is often considered a "plus" for kitchen steward applicants, as well. A passion for the job and a commitment to working hard are usually the most important elements of getting hired.
Advancement Potential
In some cases, a person might take a job as a steward as a way of working up the chain of responsibility in a restaurant or other establishment. Starting in on the bottom rungs can be a good way to learn about restaurant management, and can sometimes be a first step in promotion to busboy, waiter, or chef. Much of this depends on the establishment and the policies of individual managers.
AS FEATURED ON:
AS FEATURED ON:
By: CandyBox Images

A kitchen steward supports chefs.

By: Artanika

A kitchen steward may wash dishes.

By: atm2003

A kitchen steward ensures that workspaces are clean and sanitized.

By: v_blinov

Kitchen stewards might put in orders for new equipment.

By: Andres Rodriguez

Airlines may hire kitchen stewards for their food services.