How Do I Become an Associate Buyer?
An associate buyer is an assistant to the buyer of a retail store. An associate buyer assists the buyer in choosing the clothing, accessories, shoe or other fashion styles that the store will carry. The primary goal of the associate buyer is to choose the clothing and accessories that will sell and boost the sales of the store or retailer they are working for as an employee. While not all employees require an educational background in the field, some do, in addition to experience and talent. Developing these qualifications and finding retailers and fashion companies that are looking to fill these types of positions will help you become an associate buyer.
One of the first steps is to earn a degree in fashion merchandising or something equivalent. Earning the degree not only provides you with the knowledge you need to perform the associate buyer job, it also gives you an advantage in the job market when you start searching for a job to become an associate buyer.
One of the most important steps in becoming an associate buyer is to gain experience. Generally, part of earning your degree in fashion merchandising is completing an internship. The internship typically involves working with a buyer. In addition, the internship also tends to involve training in the other areas of merchandising that you will need to know to be able to become an associate buyer. Cross-training opportunities typically include advertising, promotions, marketing, sales, inventory management and working with vendors or designers.
After earning your degree and completing your internship, you can begin to look for open positions to become an associate buyer. In some cases, retailers will not hire you on directly as an associate buyer. Instead, they may hire you on as a sales associate to learn about face-to-face interaction with customers and get a sense for the styles and more that consumers are seeking.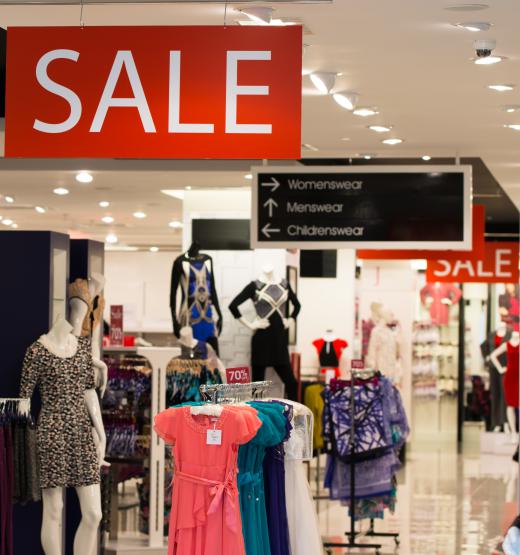 Some may even require you to work in several departments so that you learn all aspects of the business prior to the chance to become an associate buyer. When you do become an associate buyer, you will work closely with and report to the buyer of the particular department in which you are working. Use this working relationship to gain further experience in the world of buying.
This additional experience and knowledge can give you an advantage when you want to transition from an associate buyer to a buyer. You can make this transition with the same company or seek opportunities with a different company.
AS FEATURED ON:
AS FEATURED ON:
By: Laiotz

Associate buyers help choose the items to sell in the store.

By: jura

Working as a sales associate and learning about face-to-face interaction with customers can be a stepping stone towards becoming an associate buyer.

By: Kenishirotie

The associate buyer must track emerging trends in order to match supply and demand.