What does a Clothing Buyer do?
Many people who wish to stay in fashion may hire a clothing buyer to shop for them. Retail apparel businesses also employ this tactic in order to stay on top of clothing trends. A clothing buyer, or fashion buyer, is responsible for making sure that the apparel a company sells is attractive to customers.
A clothing buyer's main concern is to maximize a company's profits. He or she does this by analyzing a particular store's brand and general image, then selecting clothing and accessories that fit that same style. Also known as purchasing agents or purchasing managers, these people utilize quantitative skills along with extensive fashion knowledge to keep a balance between their store's array of products and inventory level.
Fashion buyers should have good communication skills. They normally must maintain communication lines with their clothing store manager as well as suppliers in order to create the most ideal purchasing process between the two. A clothing buyer typically has experience in the retail world as well, usually as a store clerk or manager, in order to gain experience with and knowledge about the products they will buy.
Clothing buyers may work for large department stores, small clothing boutiques, or other apparel sources. During an average work day, he or she can expect to contact various wholesalers and designers, attend fashion shows to preview new seasonal clothing, appear at meetings with store owners and designers, and order items for his or her store. He or she may also visit designer showrooms, manufacturing companies, and other areas of interest in the clothing field.
When a clothing buyer discovers an item or items of interest, he or she may request alterations to be made to the item prior to purchasing it. These alterations, known as commission changes, might include a different color, a change in length, or other adjustments. Once the item is satisfactory, he or she will purchase as many copies of the item as he or she thinks customers in his or her store's clientèle will buy.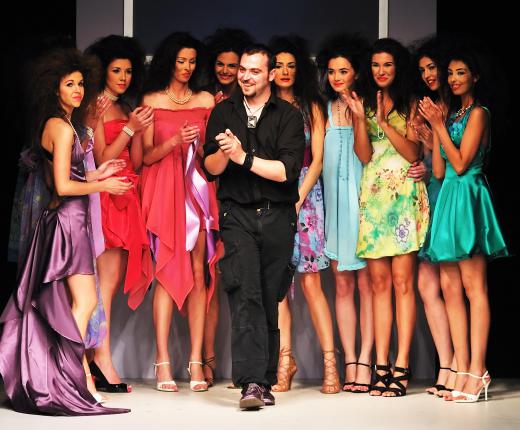 After becoming an associate buyer, which includes purchasing only a handful of products, or products specific to a single department, this person may move up toward the full fashion buyer position. In this process, several other positions may be provided as stepping stones toward the job. These might include buyer, senior buyer, and central buyer, the last of which may be responsible for purchasing clothing for an entire chain of stores.
To become a clothing buyer, a college degree is usually recommended. Degrees that clothing buyers may obtain are often in the fields of fashion merchandising, business, and marketing. Experience in the fashion industry is also key in obtaining this position. Working for a fashion retail company is a typical route toward this goal.
AS FEATURED ON:
AS FEATURED ON:
By: Karramba Production

Clothing buyers must be up to date on the latest fashion trends.

By: Photographee.eu

A clothing buyer may be hired to help large department stores gather fashionable clothing.

By: adisa

A clothing buyer should understand the fashion retail business.

By: .shock

A clothing buyer may attend fashion shows to get a look at new seasonal clothing.

By: adisa

Clothing buyer includes personal shoppers who buy items for wealthy clients.

By: Wrangler

Clothing buyers are tasked with ensuring that the product selection in stores is attractive to target buyers.