How do I Become an Immunologist?
There are several paths which someone can take to become an immunologist, depending on the type of immunologist that person wishes to become. Research immunologists focus on biomedical research which explores the immune system and mechanisms which can interact with it, while a medical immunologist works directly with patients who are experiencing problems with their immune systems. Each path requires a slightly different approach.
In both cases, a career in immunology starts with getting a bachelor's degree in biology or a related field, often with a focus on immunological topics. Students should get strong grades and demonstrate a marked interest in their coursework so that their professors will feel comfortable recommending them.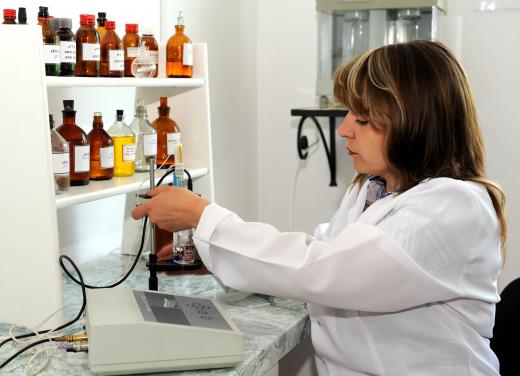 Someone who wants to work in research can sometimes find work with a bachelor's degree, but more commonly graduate study is required. Classically, students receive a PhD in immunology, which will give them a grounding in a wide variety of topics along with experience in the lab. Once a PhD is obtained, the student can pursue post-graduate work, employment at hospitals and labs, or teaching positions in the field of immunology.
People who work in the research field usually need to attend numerous conferences to keep up with developments in the field, and they typically subscribe to trade journals and belong to professional associations. They are also required to publish results and papers on a regular basis if they want to maintain a strong reputation in the field of immunology and attract students, assistants, and research collaborators.
For someone who wants to practice medicine as an immunologist, it will be necessary to go to medical school, and to complete a residency in immunology, a process which can take eight years or more. Classically, the resident starts out in an internal medicine residency, taking additional training in allergy or immunology. This route can also be followed by researchers who want to be able to have real world clinical experience and patient interactions, and some schools offer MD/PhD programs which allow people to receive both degrees.
Both types of immunologist are critical to the treatment of patients and the development of new treatments and approaches in the field. Immunologists deal with a wide variety of conditions and situations, from types of cancer to seasonal allergies, and they often work closely with other members of the medical field to provide complete patient care and to work on studies which involve multiple systems within the body. A good immunologist has an excellent attention to detail, an ability to work collaboratively, patience, and critical thinking skills.
AS FEATURED ON:
AS FEATURED ON:
By: kyslynskyy

Immunologists develop and administer medicines that can aid unhealthy immune systems.

By: jovanmandic

An immunologist may study what causes the symptoms associated with seasonal allergies.

By: Vasiliy Koval

Someone who wants to work in research can sometimes find work with a bachelor's degree, but more commonly graduate study is required.

By: sepy

A medical immunologist may work in a hospital setting.

By: Monkey Business

Research immunologists focuses on how various chemicals interact with the human immune system.