How do I Become a Virologist?
Virologists are expert researchers who study the makeup, origin, evolution, and activity of viruses. Most professionals hold doctorates in the subject or in a closely-related field such as microbiology, though some virologists are licensed medical doctors. A person who wants to become a virologist can expect to spend at least eight years in undergraduate and graduate programs, followed by several years in residency or fellowship training. Depending on an individual's research interests, he or she may be able to become a virologist in a clinical hospital lab, a private research institution, a university, or a government agency.
A four-year bachelor's degree program in biology or chemistry can be very helpful for a person who wants to become a virologist. As an undergraduate, a student can take lecture and laboratory courses in a number of relevant topics, including microbiology, physics, organic chemistry, and environmental science. In the second or third year of a program, a student can begin thinking about whether he or she wants to conduct academic research or provide medical services, and look into post-graduate programs accordingly.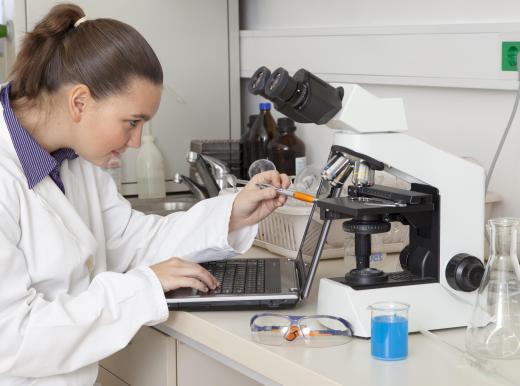 An individual who is interested in the applications of virology to human health is typically required to pass a medical college admissions test and enroll in an accredited four-year school. Many medical schools offer degree plans that are oriented more toward laboratory analysis of disease pathology, rather than direct patient care. A person who wants to eventually become a virologist at a university or research institute can enroll in a Ph.D. program in virology, microbiology, bacteriology, or a similar area of study.
Both medical school and Ph.D. students spend most of their time in university labs, conducting independent studies and assisting on larger projects led by professors. A hopeful virologist has the chance to familiarize him or herself with many types of lab equipment, supplies, and procedures. By mastering research skills and making progress on meaningful studies, an individual can greatly improve his or her chances of finding paying jobs after graduation.
A person who wants to become a virologist at a medical lab usually enters a two- to three-year residency program after college. Similarly, new research virologists often participate in two- to three-year postdoctoral fellowship programs at universities or private labs. As a resident or fellow, a new scientist normally assists experienced researchers and begins to build a strong reputation in the field. With experience, he or she is usually granted the freedom to design and conduct independent projects.
AS FEATURED ON:
AS FEATURED ON:
By: perfectmatch

Virologists study the makeup and activity of viruses.

By: markos86

The best schools for virologist training offer students a lot of opportunity for hands-on training.

By: Tyler Olson

Both medical and Ph.D. students will spend a lot of time in a lab while becoming a virologist.

By: Syda Productions

Because influenza viruses mutate quickly, virologists must continually develop new flu vaccines.

By: sepy

Some virologists are licensed medical doctors.