How Do I Become an Ordinary Seaman?
If you would like to become an ordinary seaman (OS), you need to find a shipping company that will add you to its ship's crew list. No special training is required in order to become an OS, in most cases. The position is an apprentice role for aspiring able seamen. You may wish to learn some of the basic commands that will be given while on board, as well as research the proper way to swab a deck, wrap or coil rope and tie basic knots before you actually become an ordinary seaman.
The position of ordinary seaman is one of the lowest on board a vessel and is typically a duty-driven position. You will be in charge of sweeping, mopping and cleaning every inch of the vessel as an ordinary seaman. This is the key to becoming an able seaman and one method of obtaining hours at sea. There are a few college courses that focus on preparing you to become an ordinary seaman that may help you stand out among other applicants. Another method that may help you to become an ordinary seaman is to contact shipping companies at a local port or in a port near to you. The companies often know of ships that could use more help and may be able to steer you towards the right vessel.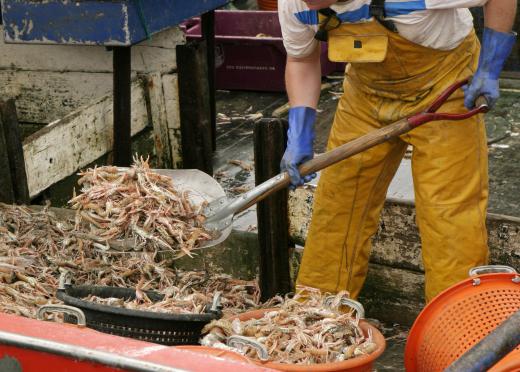 Other positions to consider in your quest to become an ordinary seaman are working on cruise lines and with supply companies for off-shore oil wells. These ships frequently promote individuals to the rank of able seaman, so there is often room to add ordinary seamen to the crew roster. You might also want to begin an exercise routine as the job of an ordinary seaman can be extremely taxing on an out-of-shape crewman. Some of the ropes used to tie the vessel to a dock can weigh a great deal and, when wet, can be even heavier to haul around while trying to stay upright on a slippery steel deck.
You may have more success completing your tasks provided you take the opportunity to become better physically prepared prior to applying for the position. If you have never been at sea, you might benefit from a short cruise or other type of off-shore adventure to test yourself concerning sea sickness or simple fear of being on the water. An off-shore fishing trip that takes you past the point of seeing land can help simulate being out to sea.
AS FEATURED ON:
AS FEATURED ON:
By: searagen

An ordinary seaman may perform manual labor on board a vessel.

By: Rawpixel

An ordinary seaman may work on a cruise ship.

By: inigoht

The position of ordinary seaman is the lowest ranking job aboard a vessel.