How Do I Get into Forensic Investigation?
Getting into forensic investigation takes a combination of education, training, and the right personality. Part scientist, part detective, a forensic investigator is responsible for gathering and analyzing the clues of a crime, whether they are computer drive files, DNA evidence, or gunpowder residue. Since many forensic investigation and science jobs require different educational paths, it is important to do some research on the various career choices available in this growing field.
Forensic investigation requires dual knowledge of scientific principles and criminal justice. Many professionals in the field have an undergraduate degree in chemistry or biology, or a general degree in science. Some schools now offer both undergraduate and graduate science degrees that emphasize forensics, with the goal of creating competent forensic professionals. In addition to scientific training, some investigators also possess a second undergraduate degree in criminal justice.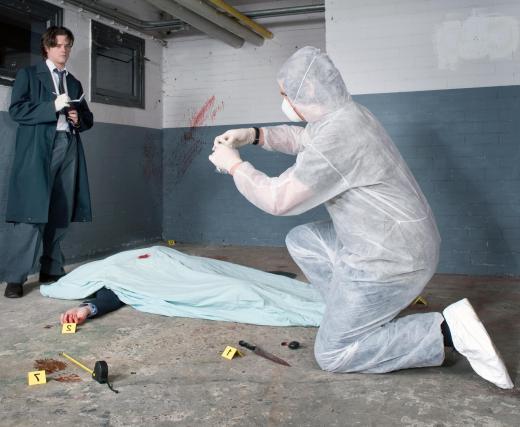 After college, the career path for forensic investigation focuses on practical training in a specialty field. Some graduates take entry-level or internship jobs with forensic laboratories, in order to receive advanced training in evidence gathering and analysis. Many also begin training with a law enforcement unit, such as a police academy, in order to prepare for a career as an investigator. Additional training after college can take several years, during which time students may begin to specialize in a particular area of forensics, such as firearms or DNA analysis.
In addition to undergoing education and training, getting into forensic investigation requires some personal reflection and careful consideration. Crime scene investigators are called in to examine the aftermath of brutal, violent, and tragic crimes. Investigators may be confronted with psychologically disturbing scenes, including crimes against children, murders, sexual assaults, and even mass killings. In order to be a successful investigator, a person will need the ability to examine crime scenes objectively, and be able to maintain good mental health strategies while dealing with highly emotional and upsetting cases.
After preparation is completed, an investigator can try to find a job with a laboratory, law enforcement group, or as a freelance professional. It may take several years to establish a strong professional reputation, during which time an investigator may work entry-level positions as an assistant or crime scene technician. Working as an independent forensic professional can allow more freedom and flexibility with career development, but it may take more time to build up a legitimate reputation in the community. Freelance investigators should be prepared to spend several years without full-time work, but also have the benefit of working their own hours and choosing their cases.
AS FEATURED ON:
AS FEATURED ON:
By: corepics

A forensic investigator analyzes the clues left behind at the scene of a crime.

By: dule964

Forensic investigators may study gunpowder residue.

By: Leah-Anne Thompson

A forensic chemist may examine clothing articles from a crime scene.