How do I get Law Enforcement Certification?
There are three steps required to get law enforcement certification: security training program, law enforcement experience, and successful completion of the certification examination. Law enforcement is a general term used to describe a broad range of security and protection activities. Security officers or guards are typically required to complete law enforcement certification programs, while police officers are required to complete law enforcement post-secondary training programs.
People who want to get law enforcement certification have usually been working in the security sector for several years or want to explore a career in security. Law enforcement certification is granted by a range of institutions and organizations. Some small cities have developed their own law enforcement certificate program to provide a consistent level of training to everyone working in the law enforcement sector.
The first step toward getting a law enforcement certification is to complete a post-secondary training program. These programs are available from a wide range of community and career colleges. They are typically 12 to 18 months in length and focus on job readiness. Look for programs that prepare you to take the local certification examination.
There is a minimum amount of law enforcement experience required before you are eligible to write the examination. This must be verifiable experience, completed under the supervision of a certified security guard or other law enforcement professional. Most candidates complete this experience requirement in two phases. The first phase is through a job placement, arranged by the training school. The second phase is after graduation, when they have obtained their first job as a security guard.
The law enforcement certification examination varies in length, but is typically two to three hours long. The questions are a combination of multiple choice and essay style questions. Many companies offer examination preparation classes. Take a look at the material covered in the examination and make an honest evaluation of your preparedness. Review any programs carefully, to ensure that they are preparing you for the correct exam.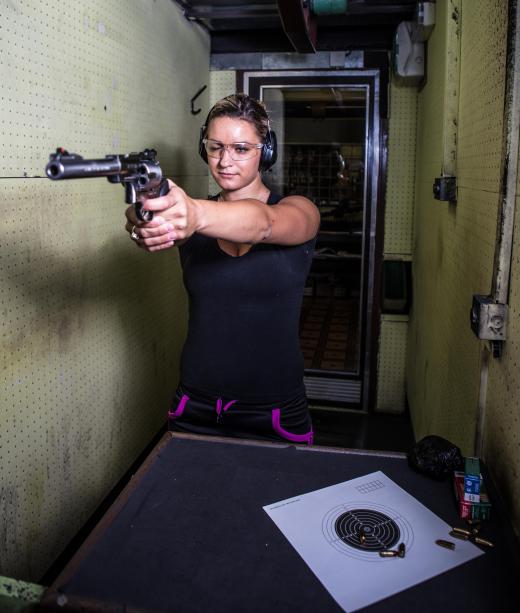 Upon successful completion of the law enforcement certification, candidates are able to apply for positions with large companies, such as property management firms, night clubs, and event planners. Many large employers will not hire candidates until they have obtained their certification. The certification will not result in a higher salary necessarily, but will open the door to working in a large company. Large property management or security firms typically promote from within, and usually offer training programs to help people reach their goals.
AS FEATURED ON:
AS FEATURED ON:
By: Lsantilli

A minimum amount of law enforcement experience is required before taking the exam, such as working under the supervision of a certified security guard.

By: Andrey Burmakin

A law enforcement official may be trained to administer polygraph tests to suspected criminals.

By: jurra8

Police officers typically receive training on how to handle and fire hand guns.

By: chatsimo

Law enforcement agents are authorized to arrest individuals who have been accused of wrongdoing.