What Does a Court Security Officer Do?
A court security officer maintains safety and security within and and around local or state court facilities. These officers often have special training that enables them to effectively handle the types of issues likely to occur in the court setting. Court security officers are responsible for not only protecting judges and other staff, but also visitors and the defendants themselves. They also maintain a peaceful, controlled environment within the building, and keep watch for firearms, explosives and other dangers. Court security officers may also be known as bailiffs, marshals or officers of the court.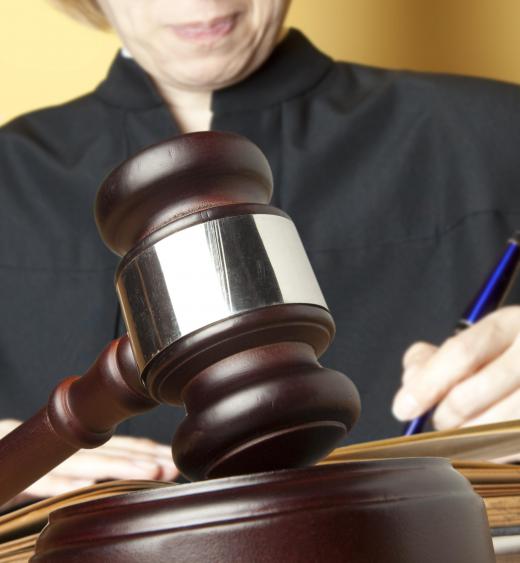 These officers are responsible for building security. They often man the doors of a courthouse, controlling access and egress. They may rely on metal detectors and other devices to spot weapons or contraband on visitors or prisoners entering the building. Guards also provide security around the building's perimeter, making sure that no explosives or weapons are left on the grounds.
A court security officer may also handle prisoner transport. He maintains proper documentation when prisoners are handed off to the court, or returned to the custody of police or other law enforcement. These officers escort defendants into and out of the court room, and back to appropriate holding cells. They may also be responsible for picking up and returning prisoners to nearby jails or prisons.
Court officers are perhaps best known for the role they play within the courtroom itself. Here these officers stand guard during a trial, and address any outbursts by defendants or the public. They may escort the jury into and out of the room, or locate the judge and other trial participants when they are needed. A court security officer may be in charge of courtroom announcements, such as instructing attendees to rise when the judge enters, or informing them of the rules of the court.
Overall, a court security officer must maintain safety and security within a potentially dangerous and difficult environment. They must remain aware and alert at all times, regardless of where they are working or what they're specific role is for that day. All officers should be ready to respond to emergencies or alarms, and should be prepared to prevent prisoner escapes, which can happen at any time. The court security officer may supervise activity at court house holding cells or jails, and keeping prisoners safe and under control. These guards might be responsible for watching security camera footage to monitor building activity, or simply enforcing basic rules regarding smoking, food, or photography.
By: angelo.gi

A court security officer might escort prisoners to and from jail or prison.

By: Andrey Burmakin

A court security officer may locate the judge when they are needed.

By: Robert Hoetink

A court security officer must maintain safety and security within a potentially dangerous environment.