What are Different Types of Diesel Mechanic Jobs?
Diesel mechanics perform maintenance and repairs on various types of diesel-powered machines and vehicles. They have expert knowledge of complex engine structures and electrical components. There are many different types of diesel mechanic jobs available, as individuals typically specialize by working with diesel-powered passenger vehicles, boats, large trucks and buses, or heavy equipment such as tractors and cranes. Most diesel mechanic jobs are found with private repair shops and companies that manufacture and operate diesel equipment or vehicles.
Many diesel mechanics work on diesel-powered cars and trucks, diagnosing and fixing problems with engines, electrical systems, and transmissions. They usually work in private shops, where customers might bring in their vehicles for scheduled maintenance checks or major repair work. Professionals commonly use computerized diagnostic equipment to identify problems and determine which repairs or replacement parts are necessary. Some specialists exclusively work on boat engines that run on diesel, performing similar repair tasks to those required in other diesel mechanic jobs.
Repair work on large trucks and buses requires very specialized knowledge and skills. Mechanics might perform preventative maintenance and scheduled repairs on city and school buses, semi trucks, locomotives, and large delivery vehicles. Many repair jobs on such vehicles require mechanics to work in teams in order to move and replace large, heavy parts. Experts in large vehicle repair often work for truck service centers, local governments, manufacturing plants, and warehouses.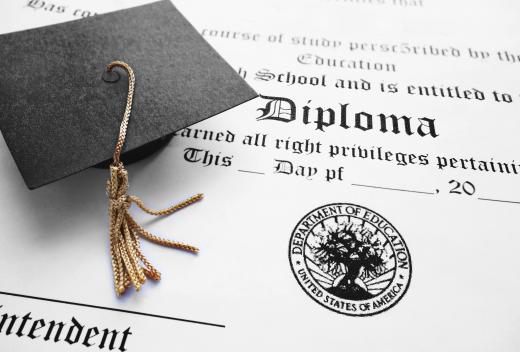 Some mechanics inspect, maintain, and repair large, diesel-powered construction equipment. Machinery such as cranes, tractors, bulldozers, and forklifts require regular maintenance checks to ensure they are safe and in proper working order. Diesel mechanic jobs in this field are commonly found with specialty repair shops, equipment manufacturing plants, and construction companies.
To obtain diesel mechanic jobs in any specialty, individuals must typically hold at least a high school diploma, and have some background knowledge about engines, machines, and repair work. Many hopeful mechanics enroll in six month to two year diesel engine repair programs at vocational schools and community colleges. Such programs provide students with classroom and practical instruction about common parts, procedures, and safety techniques involved in repair work.
Many new mechanics are required to assume apprenticeships or assistant positions for up to four years before working independently. They work alongside established mechanics, gaining hands on experience and performing small repair tasks under supervision. With proven aptitude for repairs and a strong work ethic, a new mechanic can advance fairly quickly within the field.
AS FEATURED ON:
AS FEATURED ON:
By: alpegor

Diesel mechanics may work for railroads that utilize diesel and diesel-electric locomotives.

By: zimmytws

A diesel mechanic is usually required to be at least 18 years old and possess a high school diploma or GED.

By: mihashenk

Some mechanics inspect, maintain, and repair diesel-powered machines, like bulldozers.

By: ashadrov

Diesel mechanics often work on transmissions.

By: Gilles Paire

Diesel mechanics may need specialized training before they can work on semi trucks.