What Are the Best Tips for Improving Dietitian Skills?
Key dietitian skills center on communication, teaching, and counseling. The ability to clearly communicate with patients enables these professionals to talk to patients so that they clearly understand what they need to do to improve their nutrition. Teaching and counseling are also key because many patients must learn the basics of proper diet, and often need a helping hand through the process, especially if they are experiencing health problems. A dietitian or nutritionist can take several steps to improve these skills, such as enrolling in continuing education classes. She may also learn to change her language and way of speaking to patients.
A very simple way to boost dietitian skills is for a registered dietitian to enroll in a continuing education class that addresses a weak skill area. For example, in the 1980s, it was determined that nutritionists needed to improve their teaching skills. Those who enrolled in short classes on effective teaching demonstrated an improvement in instructional ability shortly after the class ended. Continuing to take such courses throughout a career can ensure that skills remain sharp, as the teaching skills that students learned in the example class waned after several months.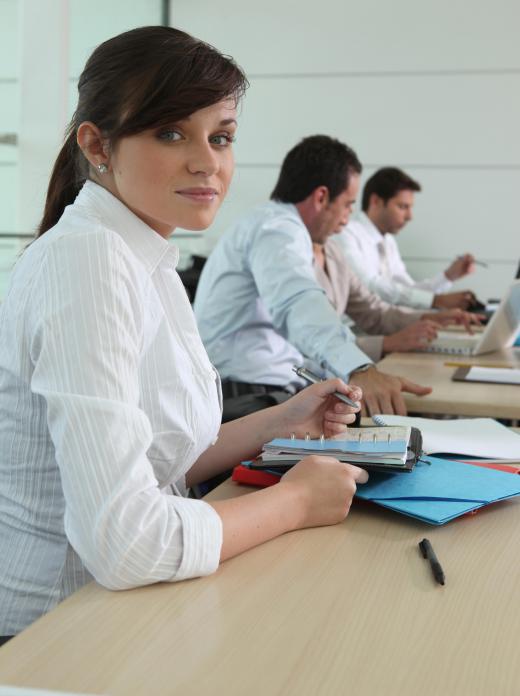 Nutritionists can build their counseling skills by learning to have less direct, nutrition-only conversations with patients. In other words, most patients respond better to a dietitian's recommendations if she establishes a relationship with them, rather than having conversations centered only on diet and nutrition. One way to build these dietitian skills is to initiate such the conversations slowly, over time. For example, a dietitian can ask about the patient's general well-being, or make a comment about the weather, before moving on to share nutrition-related information. Asking questions of a patient is another way a dietitian can improve her counseling skills. These queries should be open-ended, so that a patient is able to answer them more fully and truthfully.
Communication, particularly that with patients who are not well-versed in nutrition, is one of the most important dietitian skills. One easy way to improve this kind of skill is for a nutritionist to eliminate specialized jargon from her vocabulary. In other words, before using a term that may not be familiar with a patient, the nutritionist should take a few minutes to explain exactly what that term means and what its impact on the patient is. Another way a dietitian can improve her communication skills is by asking the patient to put what she just said in the patient's own words. This way, the nutritionist can compare what she meant to how the patient interpreted it, and adjust as needed.
AS FEATURED ON:
AS FEATURED ON:
By: auremar

A dietitian may want to enroll in a continuing education class to improve their skills and learn new things about their field.

By: sudok1

A dietitian may be responsible for determining the formula and method of tube feeding that is appropriate for a specific patient.

By: EpicStockMedia

Dietitians help devise eating plans and regimens that are tailored to an individual's specific dietary needs.