What are the Different Ethics Jobs?
Establishing and regulating ethical standards is essential in all aspects of business, research, health care, and government. People who hold ethics jobs attempt ensure that workers follow set laws and ethical standards. Professionals research the philosophical and legal aspects of ethics, train others on proper ethical principles, and make sure that employees conform to standard procedures. Ethics jobs exist in many different settings, including government regulation agencies, hospitals, scientific and clinical research institutions, and private companies.
Professionals who hold government ethics jobs are often part of agricultural, environmental, or industrial supervisory bodies. An ethics specialist might supervise urban planning commissions, fishing companies, or foresters to ensure that they comply with the legal ethical standards for environmental protection. Experts carefully regulate the activity of farmers and ranchers as well in order to enforce laws regarding the use of pesticides, chemicals, and growth hormones. In addition, many government ethics jobs involve investigating corporations and manufacturing plants to make sure that facilities are in compliance with the law and that workers are being treated fairly.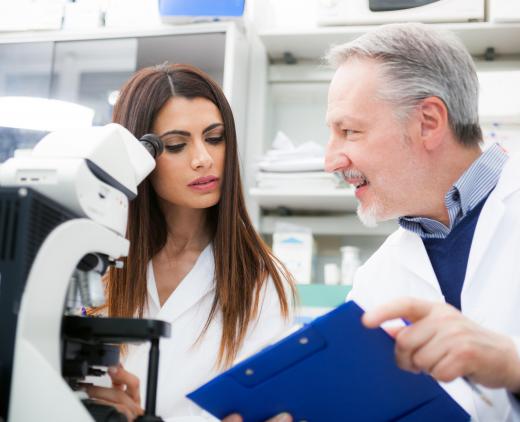 Ethics jobs that are found in hospitals and other health care settings involve evaluating the actions of doctors, nurses, and other staff. Professionals make sure that medical personnel are providing the best possible care to patients within their legal rights and boundaries. If violations of hospital policy are discovered, ethics workers create detailed reports to be presented to hospital governing boards or other authorities. The boards can then take the proper actions to discipline employees or help bring workers and facilities back into compliance.
The work of scientific and clinical researchers is often heavily regulated by ethics experts. A team of ethics workers might, for example, oversee clinical trials designed to test new pharmaceuticals to make sure that participants are treated properly and that studies are not biased in any way. They carefully monitor the safety of persons or animals involved and prevent against the misrepresentation of statistical results. By carefully monitoring trials, ethics workers are able to confirm that findings are reliable and that a medication is ready to be mass produced and marketed to the public.
Some ethics jobs are found at large companies who value honest business practices. A specialist might be involved with investigating claims of dubious behavior or implementing new company-wide policies on ethical standards. Many professionals provide guidance and training to employees and managers on how to make the most rational, just decisions when conducting business. They may give lectures on the topic, distribute written information via newsletters or email, or meet with employees individually to discuss their behavior.
By: Monkey Business

Some ethics jobs can be found in hospitals.

By: fotoliamemberN

Ethics jobs may involve the care and treatment of animals.

By: Minerva Studio

Laboratory directors are responsible for maintaining ethics in clinical trials.

By: Alliance

Doctors and other health care workers are expected to follow a code of ethics.