What are the Different Front Office Manager Jobs?
A front office manager is an important job in many different organizations. In addition to having supervisory tasks over junior employees, the front office manager is often the public face of the business. Front office manager jobs may contain dozens of different types of tasks, depending on the type of company and the scope of the position. Experience in handling office duties and customer service skills are often important qualifications in many front office manager jobs.
A front office is generally the meeting point between customers or clients and the business. The front office manager may be the first person who a client meets, and therefore is very important to the image of the company. Front office manager jobs typically require lots of customer interaction, from greeting customers to providing VIP clients with exclusive services. Front office managers may end up becoming referees in conflicts between the business and an angry client, so excellent conflict management skills are often a plus.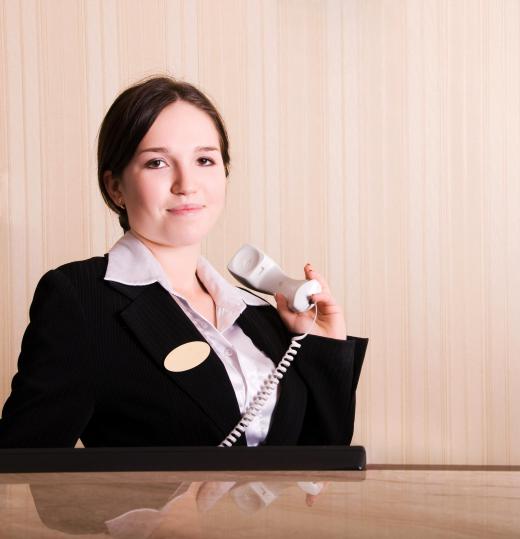 In addition to dealing with the public, many front office manager jobs include supervision of all office administrative tasks. This may include basic office jobs such as faxing, daily mail shipping and receiving, scheduling meetings, taking messages, and filing. In addition, the front office manager may be in charge of organization employee events, such as holiday parties or regular newsletters for company members. The ability to think creatively about employee morale and improvements may be critical in many front office manager jobs.
It is important for a manager to understand at least a little about each department in his or her workplace, since office jobs may come from every area of a company. Learning what each department does helps ensure that the right problems go to the right people, as well as establish the proper chain of command for all questions and concerns. It may take some time for a new front office manager to get a grip on what each department handles, but it is important to ask questions in order to ensure efficiency as early as possible.
Front office managers may be tasked with the hiring and training of front office workers. Not only must the manager have a thorough understanding of the functions of the office, he or she must be able to impart that knowledge to new workers, some with no prior experience. Office workers are frequently a tight team that share responsibilities and must be able to split up tasks fairly and efficiently. A good front office manager will understand how to lead and delegate, but also promote a friendly and respectful atmosphere.
AS FEATURED ON:
AS FEATURED ON:
By: Dmitrijs Dmitrijevs

A hotel front office manager ensures front desk operations are running smoothly.

By: michaeljung

Front office managers may benefit from conflict resolution skills.

By: bloomua

A front office manager must have multitasking skills.

By: pio3

A front office manager at a hotel may pass along guest requests to the housekeeping staff.