What are the Different Nurse Anesthetist Jobs?
A nurse anesthetist is an advanced practice registered nurse with extensive training in the field of anesthesiology. An advanced practice nurse usually refers to a nurse who has completed an advanced degree, such as a Master of Science in Nursing. Nurse anesthetist jobs are found in a variety of settings, including public, private, and military facilities. He or she normally practices under the direction of a physician or dentist, and provides the same services as an anesthesiologist.
A career as a nurse anesthetist is one of the most highly respected and well compensated of all nursing specialties. A nurse anesthetist is trained to administer all types of anesthesia by intravenous, spinal, and inhalation methods. Nurse anesthetists are also called anesthesia nurses and nurse anesthesiologists. In the United States, the official name for this job is certified registered nurse anesthetist (CRNA). They may practice in every setting that requires anesthesia services.
Most nurse anesthetist jobs are found in traditional environments such as hospital operating rooms, intensive care units, labor and delivery rooms, and ambulatory surgical centers. Specialty practices that also employ nurse anesthetists include ophthalmologists, dentists, and pain management clinics. In each of these settings, nurse anesthetists work closely with other medical professionals to administer and manage anesthesia for surgical and medical procedures.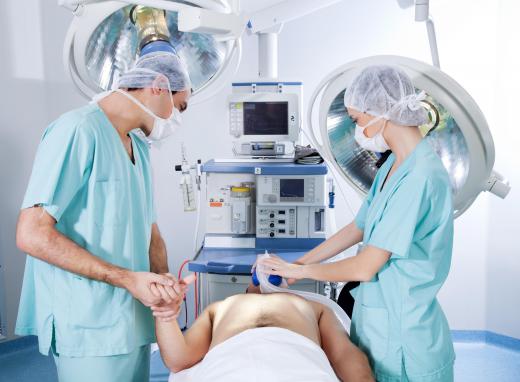 Traditional nurse anesthetist jobs involve taking care of a patient's anesthesia needs before, during, and after a surgery or medical procedure. This includes assessing the physical condition and needs of the patient, educating the patient about anesthesia, and administering and managing anesthesia during the procedure. After the procedure, the nurse anesthetist oversees the patient's recovery from anesthesia, manages immediate post-operative pain, and monitors the patient's condition during transition from recovery to the patient care unit.
There are several different models for a nurse anesthetist practice. Working as an employee of a hospital or other medical facility is the most common. Some nurse anesthetists have a private independent practice, and others practice as part of an anesthesiology group. Nurse anesthetists may also work for government facilities and public health organizations.
Many nurse anesthetist jobs are available in rural areas and in underdeveloped countries. They are often the sole providers of anesthesia in these areas where anesthesiologist services either aren't available or are very expensive. Nurse anesthetists also play an important role in the medical needs of military units all over the world.
Some nurse anesthetists choose to use their training in jobs that are less traditional. Those who are highly qualified and experienced may teach in anesthesiology programs or perform research. Many assume management positions in departments of anesthesia and perform administrative tasks such as financial management, personnel management, quality assurance, and risk management. These jobs usually require the same training and certification as traditional nurse anesthetist jobs.
AS FEATURED ON:
AS FEATURED ON:
By: reflektastudios

A nurse anesthetist administering inhalation anesthesia before surgery.

By: Tyler Olson

Nurse anesthetists are often used in medical practices that frequently use conscious sedation techniques.

By: evok20

Most anesthetist jobs are found in traditional environments such as hospital operating rooms and intensive care units.

By: tawesit

In some cases, an anesthesiologist may administer a small amount of sedative through an intravenous line.