What are the Different Types of BLS Course?
Basic life support (BLS) courses are available for the general public, health care providers and those desiring to become instructors. Each course offers varying levels of training that enables persons to act as first responders and provide emergency care when in the presence of someone who has had a possible heart attack or stroke. Students also learn methods of assisting victims during a choking emergency. Courses taught by certified instructors are available at many community locations.
Heart associations design an entry-level BLS course for the general public who have little or no medical training. Individuals may complete the course in one session, which usually lasts around four hours. Those scheduled to attend the course typically must purchase an instruction manual in advance. Each course generally explains the basics of cardiopulmonary anatomy and function, along with providing signs and symptoms associated with heart attacks and strokes. Students also receive instruction concerning various methods of dislodging foreign objects causing a choking event.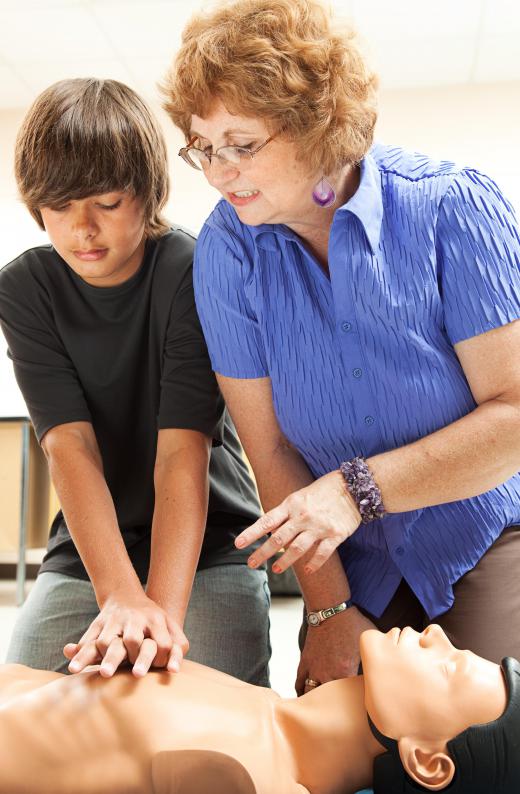 Through lecture, demonstration and role-playing, students taking a BLS course learn how to administer cardiopulmonary resuscitation (CPR) by offering breathing support and circulation maintenance. Each class teaches individuals how to perform pre-hospital care, in the form of one- or two-person rescue maneuvers, on adults, children and infants using mannequins. The instruction manual also typically contains information concerning methods of ensuring heart health. Following instruction, students demonstrate skills and complete a multiple-choice quiz to obtain a course completion card.
Health care providers and certain rescue personnel must continually acquire updated BLS certifications as part of professional licensing protocol. CPR courses at this level typically provide certification that lasts one or two years. The health care provider BLS training generally involves one or two four-hour sessions with instruction designed for those having a medical background. In addition to pre-hospital care, students learn the function and operation of an automated external defibrillator, also known as an AED. After instruction, students display acquired skills through physical demonstration and a multiple-choice quiz to receive a certification card.
Those desiring to become BLS course instructors usually first acquire a letter of recommendation. After receiving the endorsement, individuals typically complete a core instructor's class online, complete the class at home using course materials or attend a class in a conventional classroom setting. Upon core course completion, future instructors receive additional training in a specific discipline, which includes basic life support, heart saver, advanced cardiovascular support or pediatric advanced life support. Successful completion of all course requirements enables individuals to conduct a BLS course while under the supervision of a certified instructor.
AS FEATURED ON:
AS FEATURED ON:
By: Lisa F. Young

The general public can take basic life saving courses.

By: Roman Milert

Infant CPR technique is taught on mannequins.

By: Renewer

BLS students will be tested on their ability to use automated external defibrillators.

By: nebari

BLS students learn how to assist victims during choking emergencies.