What Is BCLS Certification?
Basic Cardiac Life Support (BCLS) certification is a qualification given to medical professionals and others who have completed a training program and passed an exam covering various life-saving techniques. It is generally only used in the United States, but there are comparable certifications in most places. Many hospitals and clinics require doctors, nurses, and sometimes even aides to hold BCLS credentials, and some schools and outpatient care facilities do, too. The specifics of what it takes to get certified can vary somewhat from place to place, but it's usually a matter of attending a class, participating in hands-on demonstrations, and passing a written exam. The credentials typically expire every year or every other year, and people usually have to re-take the test and sometimes even the course at these intervals in order to keep their certification current.
General Overview
The main goal of BCLS certification is to teach people how to provide emergency life-saving care when someone is suffering from a heart attack or other heart-related crisis. The courses are intended to provide basic knowledge that will be easy to remember and draw upon in an emergency situation where rapid intervention may be critical. People can suffer heart attacks at any time and in any place, and getting fast help can be the difference between a complete recovery and debilitation or even death. Those who have completed a certification course are usually well equipped to step in and help out. This is critical in hospital and health care facilities, but can be useful in daily life as well.
How People Get Certified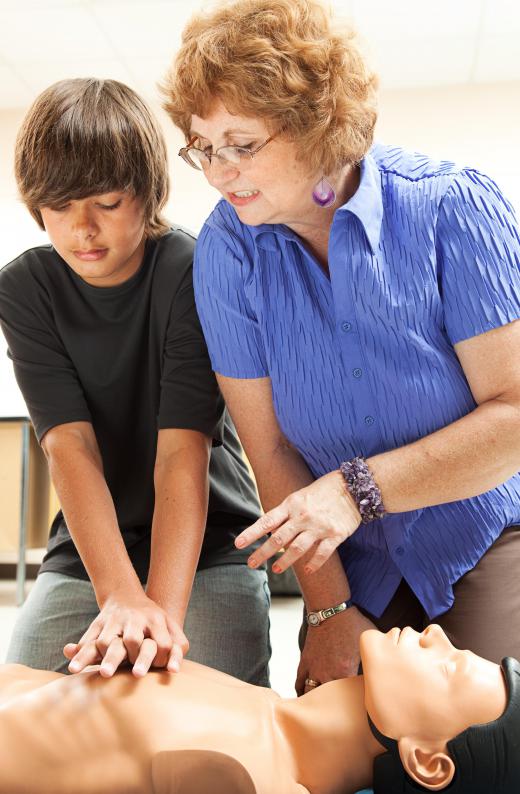 Certification is typically a two-step process. Candidates first enroll in a class, which usually happens in a single day or over a weekend, then they sit for an exam. Different regions tend to have slightly different approaches, but government or medical regulatory authorities are usually in charge of setting the curriculum, writing the exam, and making sure that the course is more or less the same from place to place. Some hospitals offer day-long courses for their employees, and classes may also be held at community colleges, nursing centers, and civic centers. In most places people can sign up at several different points during the year. Should they fail the certification exam on the first attempt, they may have to wait until the next course is offered to try again.
What the Course Covers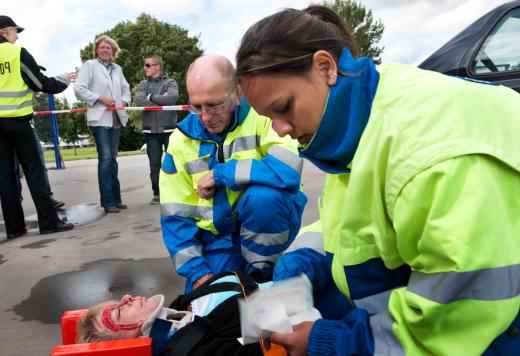 One of the first thing students learn is how to assess victims, and courses focus on learning to stabilize a person's airway, breathing, and circulation. Students typically learn how to perform cardiopulmonary resuscitation, commonly known as CPR, as well as how to operate automated external defibrillators (AEDs), machines that administer a electromagnetic charge that can help restart a stopped heart. Both techniques can, when used properly, prevent damage to someone's brain from lack of oxygen. They are sometimes enough to save a person's life, but are almost always a way to buy time while waiting for emergency medical technicians, paramedics, or doctors to provide more advanced treatment.
In addition to teaching people about appropriate interventions in life threatening situations, BCLS certification courses usually also cover ways to minimize infection or harm while providing care. Students usually learn about how to use barrier methods during CPR, for instance, and how to avoid blood-to-blood contact. Emergency caregivers can be vulnerable to injury themselves, and it is important to avoid creating unnecessary risk while trying to render aid. Learning to assess the general safety of a situation is also an important skill, particularly in dangerous environments like car accidents and sites of natural disasters.
Who Is Eligible
In most cases, any interested member of the public can receive BCLS training and can seek formal certification. Not all courses are open to the public, though, as a number of hospitals and social welfare services run courses exclusively for their own employees. People without a professional need for certification may also have to pay a slightly higher fee for the coursework and exam, though a lot of this depends on local rules.
Nurses, doctors, and others providing direct patient care are almost always required to carry current credentials, and some school teachers are, too. Babysitters, nannies, and companions for elderly people usually aren't, but many find that certification is useful both in terms of providing good care for their charges and helping their resumes stand out when looking for a job.
Testing and Recertification
Attendees of a BCLS certification courses must take a written exam at the end of the class, and the test is usually given on the same day. It is designed to assess basic understanding and competencies and typically takes about an hour to administer. Students may also have to pass a demonstration exam in which they show an instructor the techniques they have learned. Depending on course specifics, this exam may be held as a one-on-one assessment or may be woven into the course at various points.
Hands-on learning is often demonstrated with the use of a dummy or mannequin. Instructors will assess student's techniques, but some dummies are also equipped with computers that will provide immediate feedback about pressure, response time, and precise location of the student's touch. People who pass both the physical and written portions of the course are issued formal certification, but it's usually only good for a year or two.
Renewal rules can vary, but most of the time applicants have to repeat the entire course and exam process. Life-saving care is really important, but it's also precise. As with many things, skills that aren't used tend to fade from memory over time; the way most certification authorities see it, anyone holding credentials should have the needed skills relatively fresh in their minds.
Online Options
Some places allow people to take all or part of their certification courses online, and exams are also given over the Internet in many places. Online training has the advantage of being instantaneous and accessible virtually anywhere, but students aren't able to actually practice their techniques in any sort of a hands-on way. Some online programs also require students to attend live demonstrations, but not all do. A lot depends on locality, though employers sometimes also specify whether their personnel can certify online or whether their training must be done in person.
Difference Between BCLS and Other Programs
BCLS credentials are often described as more involved than basic CPR certification, but not as rigorous as advanced cardiovascular life support (ACLS) training. CPR training tends to cover only the basics of how to manually clear a person's airways and re-initiate a heartbeat, and is usually very broad and basic in its focus. ACLS courses, on the other hand, are often very detailed, and are often open only to medical professionals.
BCLS is more of a midline. It goes farther than basic resuscitation, but it does not involve invasive techniques and students are not trained in using drugs or other more invasive procedures. Advanced life support skills typically require medical training to be administered safely, and this is beyond the scope of most day-long or weekend certification courses.
How Long Does It Take To Get BCLS Certification?
A BCLS certification can be earned in as little as a day, although the course and exam is a weekend-long event in some regions. Students attend the course during the first part of the day They learn life-saving techniques and get hands-on training for CPR and similar interventions. The course lasts approximately four hours, and the students then take an exam to make sure they have a thorough understanding of the techniques they have learned.
What Does a Class for BCLS Certification Look Like?
Classes for BCLA certification are small to ensure that all students have adequate time to practice life-saving skills on manikins. Most classes consist of one instructor and six students. The course varies slightly among different regions, but once you have taken your first course for certification you should have no problems renewing our certification each year.
Who Should Get a BCLS Certification?
A BCLS certification is required for many medical professionals. Anyone who works a medical job in a hospital or doctor's office can benefit from holding this certification. However, the techniques learned through this certification are also good for everyone to learn. Anyone can sign up for a BCLS class when it is offered to the public. People who work with senior citizens or young children may find having a BCLS certification opens the door for more job opportunities, but the skills can benefit anyone.
Is BCLS Included in a Nursing Certification?
Nurses need to hold a BCLS certification, but it is not always included in a nursing program. Nursing students must complete a program and pass the NCLEX before they can start their careers. Most nursing programs last for four years, but some accelerated programs take as little as 12 months to complete. It's important to know if the BCLS class is included in a nursing program before enrolling. If the class is not part of the program, you will need to find time to take it yourself.
How Often Should You Renew a BCLS Certification?
BCLS certifications last for a year. You should retake the course every year to renew your certification. Most hospitals offer these courses throughout the year for employees so that doctors and nurses can stay up to date on certifications. If you do not work in the medical field, you will need to sign up to retake the course whenever it is offered to the public. After completing the exam, you will be certified for another year.
What Is ACLS BLS Certification?
BLS is a basic certification to teach people lifesaving techniques that can be used outside of a hospital. An ACLS certification stands for Advanced Cardiac Life Support. These advanced certifications are geared towards RNs who work in a hospital setting and care for patients that are critically ill. All nurses must hold a BLS certification, but only RNs must hold an ACLS certification.
What Is the Difference Between ACLS and BCLS Certifications?
Classes for a BCLS certification teach students how to use basic tools and equipment for lifesaving measures in or out of a hospital. Although anyone is eligible to take the course, all medical professionals much hold this certification to practice.
In contrast, the ACLS covers more advanced techniques that require prescription drugs and hospital equipment. Because this course is so advanced, it is not suitable for the public. Only people who work in hospitals should hold this certification. 
Why Is a BCLS Certification a Good Idea?
BCLS certifications are necessary for medical professionals. However, the skills learned through this class can be beneficial for everyone. You never know when you will come across someone who needs quick intervention during a heart attack or another type of medical emergency. If you keep your certification up to date, you will be qualified to help anyone you come across. This can be especially beneficial for anyone who works with medically fragile people or young children.
How Can You Get Your BCLS Certification?
If you are a medical professional who works in a hospital setting, you may be able to retake the course and exam to maintain your BCLS certification through your employer. Hospitals often set specific testing dates throughout the year to help employees maintain their certifications. These courses are also offered to the public, but they are not held in a hospital setting. You can sign up for these courses when they are offered to the public in a different setting. Whether the test is offered by a hospital or another public entity, the certification is the same.
AS FEATURED ON:
AS FEATURED ON:
By: Tandem

BCLS certification includes learning to use automated external defibrillators.

By: Lisa F. Young

BCLS courses teach cardiopulmonary resuscitation.

By: corepics

First responders often perform BCLS while still on the scene of an accident.

By: Lisa F. Young

Those who lack training could cause harm if they attempt to administer CPR.

By: Photographee.eu

BCLS provides rescue breaths and chest compressions to simulate a beating heart.

By: Thomas Perkins

Bloodborne pathogen training plays an important role in BCLS certification.