What Are the Different Types of Captain Jobs?
Captain jobs might include working on a cargo ship, cruise ship, yacht, ferry, commercial fishing boat, or as a harbor pilot. In each case, the captain takes responsibility for the operation and safety of the vessel while in national or international waters. A captain supervises crew members to help ensure that voyages proceed without mishap.
Captain jobs on cruise ships might include handling immigration paperwork when the ship arrives at various ports. The captain assumes responsibility for the enjoyment of passengers while following company policy. He or she also follows international law when traveling in international waters. Typically, the captain holds a license to oversee navigation from the flag country of the ship's home port.
Harbor pilots represent captain jobs within rivers, harbors, or canals. These captains might work independently by helping ships through narrow waterways. They understand how currents, tides, and winds affect navigation, along with underwater hazards that might be present. Captain jobs as harbor pilots usually involve guiding several ships a day as they enter and leave harbors.
Captain jobs on commercial fishing vessels entail overseeing all supplies and equipment for each trip at sea. These captains decide where the crew fishes and the type of seafood targeted, and they organize the sale of the catch. Captains hire crews and pay them a percentage of proceeds from the sale. Commercial fishing boat captains ensure all permits and licenses are obtained to comply with relevant laws.
Yacht captain jobs might be highly sought because they generally pay well. Captains might work exclusively for wealthy owners who travel occasionally by sea. Some captains work more often on chartered yachts. When the vessel is not at sea, yacht captains usually make sure the vessel remains in prime working order.
Ferry captains might transport commuter passengers daily. Some of these positions might consist of transporting tourists on vacation. Duties on a ferry typically consist of regular working hours with the captain returning home at night.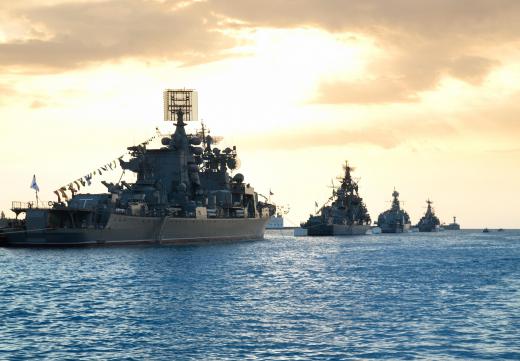 Captain jobs might be available on offshore supply vessels. These ships carry supplies, including food, fuel, and drilling equipment, to oil platforms in deep ocean waters. Captains use maps, charts, and electronic equipment to safely navigate the ship to reach offshore rigs. They are responsible for the loading and unloading of supplies onto the drilling platform or barge.
Cargo ship captains might remain at sea for long periods of time, with a break between voyages. They might supervise large crews of sailors and deckhands who perform maintenance duties and handle cargo. The captain sets the course and speed of the vessel, helps ensure cargo is loaded and unloaded into the hold safely, and tries to make sure that goods remain free from damage.
AS FEATURED ON:
AS FEATURED ON:
By: Paul Hamilton

A commercial fishing boat.

By: gwen0

The captains of container ships are responsible for ensuring that their vessels and cargo arrive at intended destinations safely and on schedule.

By: keller

The captain of a tugboat may be tasked with using his craft to guide a large ship, like a tanker, through a harbor.

By: Pavlo Vakhrushev

In addition to normal captaining duties, the commander of a warship is tasked with using it as an effective weapon during combat.

By: Rawpixel

Cruise ship captains are responsible for the entertainment of the guests in addition to the running of the ship.